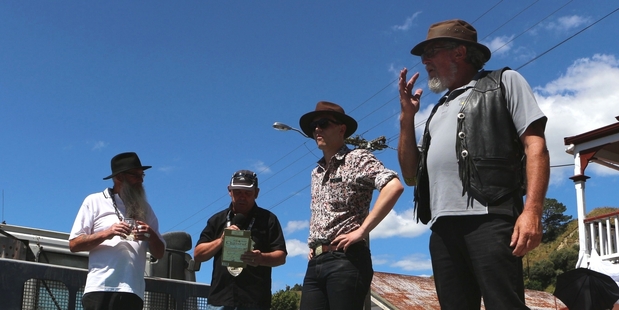 This Saturday the residents of Whangamomona will celebrate 29 years of independence and elect their new president.
This year's presidential race is expected to be fiercely contested, with a rumour it may even end in a cat fight, with Ted the pub cat said to be considering putting his paw up for the top job.
If successful, it wouldn't be the first time a four legged creature held office in Whangamomona. Previous presidents have included Billy the Kid (a goat) and Tai the Poodle.
There may also be some gender equality issues, as current president Vicki is said to be considering a female-only vote rule on the day, in reaction to the recent events in the USA. Members of the Chiefs Rugby team are calling in to the Republic on the day and will join the hundreds of tourists who will head out to Whangamomona for a great day out.
This year's Republic Day is Olympic themed, and visitors will be able to enjoy demonstrations of possum skinning, sheep shearing, wood chopping, dog trials and chainsaw carving on the day as well as whip cracking, sheep racing and of course, the all-important voting and subsequent swearing in of a new president (and doubtless many allegations of cheating, unfair play, bribery and corruption, in true Whanga style).
Whangamomona Republic Day: Saturday, January 21. 10am - 5pm. Entry $5 including passport for 15 years and over.
If you prefer not to drive, there is a bus running to Whangamomona on the day, departing Stratford at 10.30am and leaving Whangamomona for the return journey at 3pm.
Tickets are priced from $10 (or $5 for a child, and free for infants sitting on a lap) and available from the Stratford i-SITE. Ticket includes bus fare and the Whangamomona Republic passport.