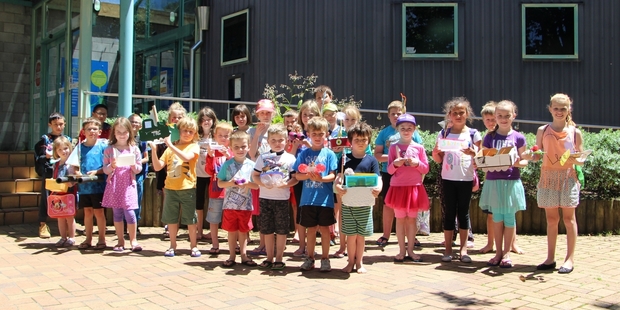 It was sink or swim, or at least float, at the TSB Stratford Pool on Friday last week when youngsters brought along boats they had made to be tested in the outside pool.
The activity, organised by the Stratford library as part of their holiday activity programme, required children to make "something that floats". They then met at the Stratford Pool to put their creations to the test.
Children's librarian Sally Caskey says the winners weren't just those who created the "boat that floats" for longest.
"We also had four winners in the best looking boat category, a best travelling category and fastest to sink as well as best overall," she says.
A total of 34 boats were entered, and Sally was pleased to see so many local children getting involved.
This Friday the library is hosting a rock painting session for youngsters to get involved with the "Taranaki Rocks" craze (reported on in last week's Stratford Press).
Children need to bring their own rocks, but paint will be supplied.
Next week the library hosts Adrian Kirk's Reading Rocks show on Thursday. Sally says it is wise to come early to grab a good seat as the show is sure to be popular.
During the show Adrian will combine his skills as a juggler, unicyclist and comedian with a discussion about some of his favourite books. The show has received rave reviews around the country over the past few years.
Rock decorating session: Stratford Library, Friday January 20. 10am - noon. Bring your own rocks, paint supplied.
Reading Rocks, free. Stratford Library, 2.30 - 3.30pm, Thursday, January 26.