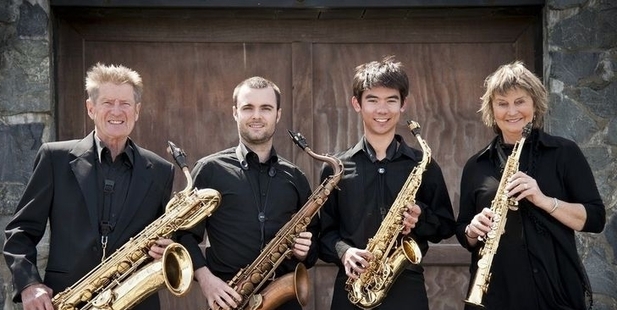 The annual NZ Summer Saxophone School is returning to Taranaki, with more than 30 saxophonists converging on the region between January 20 and 22.
The weekend, which features workshops and public concerts, brings together some of the top young saxophonist in the country for an intensive weekend at Puritawa Estate. Last year's event was a hit and this year promises to be even better with more than twice the number of attendees. An outstanding line up of top international guests, including Jay Byrnes of Sydney and Joan Mart-Frasquier from Spain, will be on hand, along with NZ leading saxophonists to perform and inspire saxophonists from all over NZ.
The event is run by the NZ Saxophone Society and hosted by Michael Jamieson, who grew up in Taranaki and Simon Brew, current Director of Music for the RNZAF Band.
"Last year we wanted to start an event to grow and develop saxophone playing in New Zealand. We were overwhelmed by the response and enthusiasm to attend," says Michael, who is currently the saxophone teacher at the University of Auckland and plays with many orchestras.
The acclaimed group SAXCESS from Wellington will open the festival with a collaborative performance telling the dramatic and intriguing story of Adolphe Sax, the inventor of the Saxophone.
"Adolphe Sax had a terrible time establishing the saxophone as many people were so jealous of his inventing talent that they wanted to sabotage his efforts," Simon says. "This concert will be filled with intrigue and laughter as the tales of the saxophone are told through words and music."
Sax invented a family of saxophones, from the sopranino to a bass. On the Saturday evening there will be a special tutors' concert featuring these unique instruments at St Andrews Church.
"The concert will have everything from scintillating classical transcriptions to raunchy tangos," Simon says. "It will conclude with the largest saxophone orchestra ever performed in New Zealand. The sound will be magnificent and will certainly be a sound and sight to behold."
The weekend ends in a participants' concert at Puritawa Estate where all the participants eat, sleep and work for the three days.
"It is an exhausting yet exhilarating weekend and I am so pleased to be able to do it in my home town and share the great music with so many people," he said.