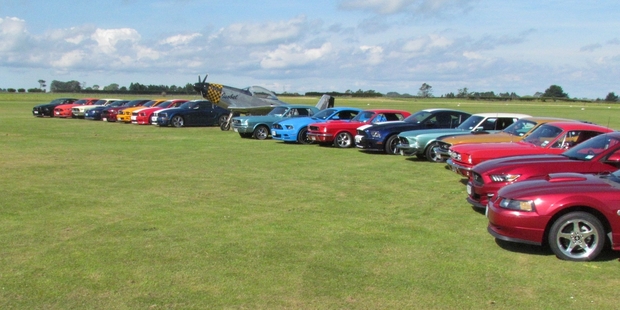 In early December the Stratford aerodrome, home airfield of the popular Stratford Aero Clubs Sports Flyers T-51 Mustang, played host to some Mustangs of a different kind as members of the Taranaki Mustang Car Club came to visit.
The visit was part of the car club's Christmas celebration and members took the opportunity to have a photocall with their cars and Isobel, the Mustang with wings.
Nick Furmage, president of the Stratford Aero Club Sports Flyers, says more than 5500 visitors to date have visited the aerodrome to check out Isobel, and that number is guaranteed to climb rapidly with the upcoming open day at the aerodrome, part of their 85th birthday celebrations.
Isobel, along with lots of other aircraft, will be on show at the birthday celebrations on January 28.
Nick says the celebrations are open to all, with children admitted to the open day free, while adults are asked for a gold coin donation. The day will include flying displays, as well as trial flights on some of the club's aircraft.
For more details see: www.blogspotbigsky.blogspot.co.nz
Stratford Aerodrome open day and birthday celebration: Saturday, January 28. 10am-4pm. Flint Rd East, Stratford.