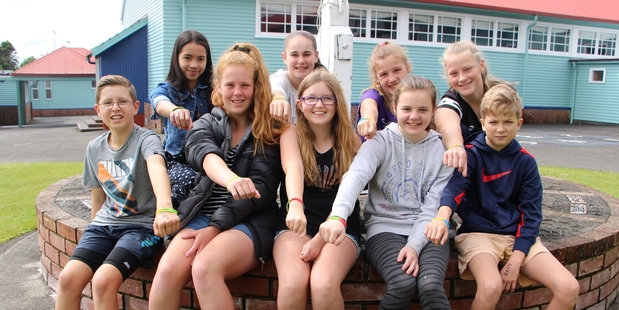 "I was more motivated this year to do things outside my comfort zone to earn my honours band," says Ella Coulton.
Ten Stratford Primary School (SPS) students were presented with honours wrist bands in December, as an acknowledgement of their honour student status in the first year of the school's Aim High programme.
Tracy White, Year 7 and 8 team leader at SPS, says at the beginning of 2016 the school introduced the honours programme.
It aims to promote participation, hard work, self regulation and excellence in the four areas.
Pupils are encouraged to earn credits through participation in the areas; The Arts, Service, Academics and Sport.
Once the pupils earn 12 credits in a particular area they are awarded with wrist bands and once a student has gained wrist bands in all four areas they receive an honours band.
"The honours bands have the pupils' name on them and their name is also added to the honours board in the school hall."
Tracy says the school has noticed a rise in achievement across the senior area of school.
"Our students are trying new things and pushing outside their comfort zones to earn credits in areas that they have strengths in but areas they need to work on as well."
Blake Vickers says the Arts and Culture band was the hardest one for him to get.
"By auditioning for a lead role in the school production, which I wouldn't have done in the past, I got my credits."
For Nancy Kirk, her hardest band to get was sports. "But I was motivated so I just put my hand up to do more activities, you get credit for participation."
This year the students who have attained honours were: Tarin Nicolls, Dilan Robertson, Toni Cameron, Ella Coulton, Nancy Kirk, Lillie Amstad, Kim Urbano, Corey Bailey, Blake Vickers and Lydia Barber.