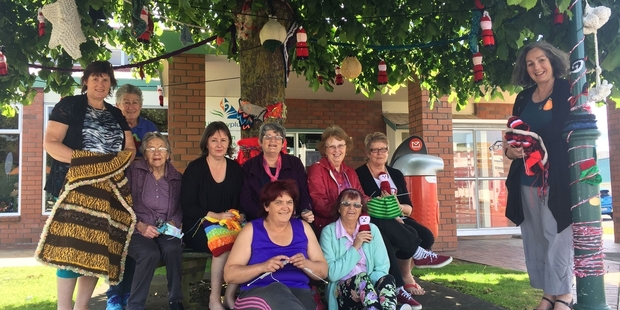 A much loved tree outside Eltham Plus Library was decorated in handcrafted decorations in December by a group of talented local women.
They call themselves the "Naughty Knitters" but are officially known as the "Crafty Volunteers" of Eltham.
The group meets once a week at the Eltham Plus Library to knit and crochet a range of crafts.
Group member Annette Winmill says, "The tree outside the library is cherished by the Eltham community so we thought it deserved to be dressed for the festive season."
As well as the decorations, the women create blankets for local preschools, soft toys for the care packs distributed by the 4 the Kidz charity, and booties for the neonatal unit in New Plymouth.
The group is part of the national Crafty Volunteers network which was started in Wellington.
"We even sent blankets and toys to families following the Kaikoura earthquake," says Annette.
The 'Naughty Knitters' group is open to anyone who is interested in knitting or crochet, or anyone who is eager to learn.
"We are happy to welcome anyone who wants to give it a go," says Annette.
The group meet every Tuesday at 10.30am at the Eltham Plus Library.
"Come along, meet new people and learn a new skill."
Being a part of the national Crafty Volunteers network sees the group give to many different charities and causes throughout New Zealand. The group are always eager for donations of wool. If you have any at home that you are happy donate, please drop this off to Eltham Library Plus.