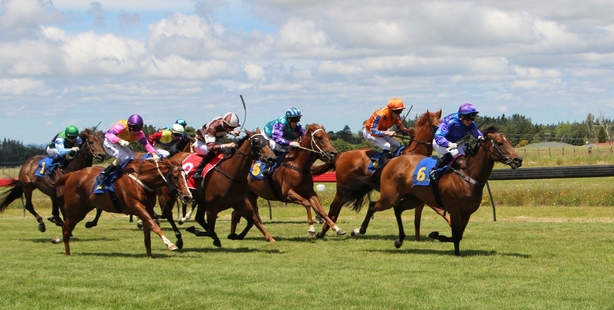 Te Kapau Park was buzzing with activity on New Year's Eve as crowds flocked to the annual Interislander Summer Festival.
"A day at the races is a Kiwi summertime tradition. Adults can unwind after the Christmas rush, catch up with friends, and dabble in the odd flutter, while the kids are occupied by our all-day entertainment," says Stratford Racing Club spokesman John Gray.
"We were delighted by the bumper crowd and superb weather. The upbeat trackside atmosphere was infectious."
After the 2015 event was cancelled due to heavy rain, racegoers were particularly delighted with the weather.
"I was a bit worried in the lead up, the weather wasn't that great, but today it really is perfect. We are settled in for the day with our picnic and sunhats and are going to have a fantastic day out."
Maureen Ainsworth had come from Whanganui for the day with her extended family. "We have the grandkids with us, my sister and her grandchildren came as well.
The kids are loving the fun zone while the older ones amongst us are enjoying hte chance to sit in the sunshine and relax."
For Megan Burgoyne the Stratford event was her first time at the races and the 18-year-old was delighted when her first foray into the world of betting came with a win.
"I didn't know much about it all, so I just picked horses randomly. I was joking with my friends that if I won big, I would take them all on an island cruise, so when I saw a horse called Cruiser in the book, I picked that one to win. Sadly, I didn't win enough for a cruise, but I did win enough for a drink or two!"
Cruiser, who is part-owned and trained by Waverley based Harvey Wilson, a former Olympic equestrian representative, took the win in the Fritz Reuter Immigrants Stratford Jubilee Cup with jockey Kelly McCulloch in the saddle. In second place was Woodsman, trained by Matamata based Tony Gillies and Cassie Anne, trained by Stratford based Tina Egan coming in third. Tina also enjoyed success with La Bella Rosa, who came in second in the second race of the day.
Another Stratford trainer, Trudy Keegan, also enjoyed some success on the day. BellontheRocks took second in race three, Terracotta Warrior came in second in race six.
The Interislander Summer Festival has 36 events this season, with holiday races at some of the country's most picturesque racecourses from Ruakaka in the north, to Waikouaiti in the south.
See theraces.co.nz for more details about these and other major race days this summer.
See page 19 for more photos from the day.