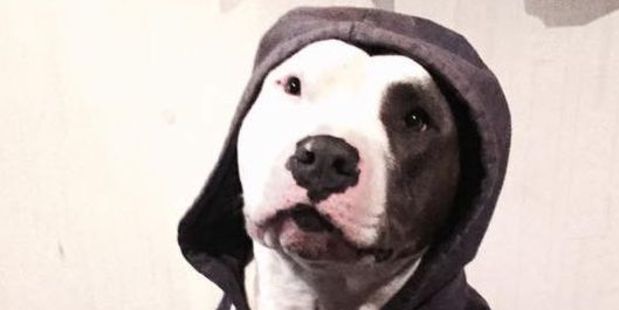 Christmas is being celebrated a little later than the norm by a blue haired staffy named Major.
Major was the winner of the Stratford Press 2016 Energy Vets Taranaki Pet Idol competition, the first ever canine to take out the title of the annual competition.
Dressed in a human sized hoodie, Major won the hearts of Stratford's pet loving community with more than half of the total votes.

Mischievous Major was adopted by Jackie Childs and Jade Hintz just over a year ago, and the adoptive parents agree the pup is a major part of their family.
"Major keeps us on our toes. If things are too quiet in the house, it's often because Major and his older brother Ruff are up to no good together," says Jackie.
By winning the 2016 Energy Vets Taranaki Pet Idol title, along with bragging rights, Major has won a $300 voucher to spend at Energy Vets Taranaki.
Jackie says despite the holiday season being over, Major will have some special presents coming his way in the form of chew toys.
"Being a young pup, he still has the tendency to pick up and chew on stuff around the house. So getting him some specials toys for himself will save my shoes."
Jackie adds the vouchers will also be used towards getting Major some special shampoos for his sensitive skin and perhaps a treat for his brother too.
"I have heard a lot of great things about Energy Vets Taranaki. I am excited about having the opportunity to see what they have for our boys," says Jackie.
This was the first time that Jackie had entered Major in the pet idol competition, and she used an effective campaign strategy.
"My mum works in a rest home in town so she and I shared around the pet idol photos and Major managed to win the hearts of the residents, who all voted for him."
Jackie adds, "Thanks to the Stratford Press and Energy Vets Taranaki for such a great competition and to everyone that voted for Major."
Close to 100 votes were cast for the Energy Vets Taranaki Pet Idol competition and Stratford Press multimedia manager Tracey Blake says she is thrilled with the response, adding she is appreciative of the support from competition sponsors Energy Vets Taranaki.
Tracey says the popular competition will back later this year to showcase even more of Stratford's cute and cuddly companions.