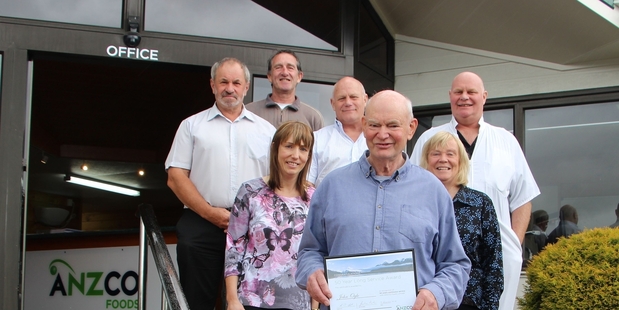 "When I started my first day, the foreman asked if I was going to be here long term or short term. I don't think he or I would have ever imagined it would have been this long," says John Ogle of his time at ANZCO Foods Eltham.
In December of last year, John celebrated his retirement after a half century with the food processing plant in Eltham.
"It's been 50 years and 1000 stories I'll never forget."
In 1966, after leaving school, John started his first day at the plant at 16 years old.
"I started off making sausages, before moving into the boning room."
John says in his time he moved throughout the plant, doing all kinds of jobs. However, he spent the majority of his career, 35 years, in the boning room.
Graham Parker, site manager for ANZCO Foods Eltham, says he takes his hat off to John.
"In this day and age most people just think for today and not for tomorrow. John has made a huge commitment to this plant. Walking through the same gate everyday for 50 years is just incredible."
Wayne Fergus, operations manager at the plant, says he admires John for his "incredible feat".
I have many fond memories of John, both in and out of work. We'll certainly miss him around the plant.
As a final farewell John was invited to a morning tea in December with Graham, Wayne and a number of his shift mates, where he was presented with a 50 year plaque in honour of his time as well as a travel voucher.
"My wife and I have done two 'world tours', and we are looking forward to going out exploring even more of the world," says John.
He adds while it is bittersweet to be leaving the plant, both his children Lynell and Kieran work for ANZCO Foods Eltham, "so hopefully the Ogle name is around the plant for another 100 years".