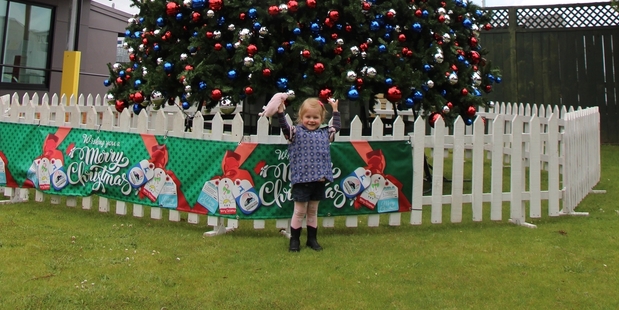 It's 8.8 metres high and cost a total of $31,562, but to two-year-old Imogen Woller, it is simply "beautiful".
Last week contractors installed Stratford's new Christmas tree, and it is already attracting admiring glances. Imogen and her parents had been visiting the library on Monday when the excitable toddler spotted the tree.
"She had to come and see it, she was so excited," says her mother, Cindy.
Imogen was particularly taken with the star at the top of the tree, and says while her family have a tree at home as well, "it's only little, not big like this one".
Director of community services at Stratford District Council, Kate Whareaitu, says the tree was funded through a grant of $7000 from the TET, and a donation of $8000 from the Stratford Business Association, with the remaining amount covered by Stratford District Council.
Stratford Business Association chairman Peter Dalziel says "the SBA was delighted to be able to help fund the tree. Having a town Christmas tree is a great idea, as it gives a festive flair to the town and hopefully gives shoppers a taste of the Christmas spirit as they use local businesses for their Christmas shopping needs.
Stratford mayor Neil Volzke says the installation of the tree is one of three festive projects completed by the council over the past week. As well as the tree, new night lights have been installed, featuring seasonal images of bells and Christmas trees, and new street flags have also gone up. The festive night lights will be replaced with more generic ones after the Christmas season, while the new flag system, Flagtrax, will be available for organisations to use for promotional purposes after the seasonal flags come down. He says all three projects are part of the Stratford 2035 - Future of Broadway project and are items that have been consistently asked for in consultations with the community in the past.
"These are the first phases of a number of projects that are happening as part of the Future of Broadway project. They are all part of 'Making it real', the Stratford 2035 tagline. It is pleasing to provide something that our residents have asked for, but also to give everyone a boost of Christmas cheer going into the festive season."
What do you think of the three projects? Let us know, write to editor@stratfordpress.co.nz