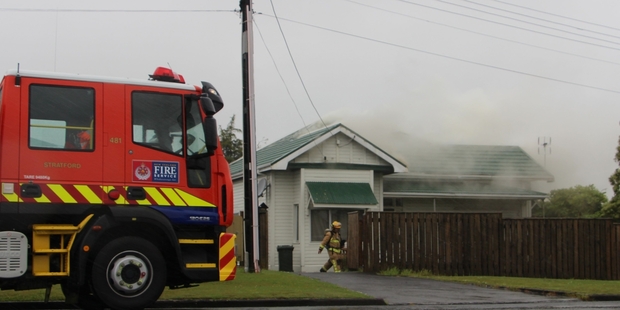 Alan and Linda Rarere's home of 33 years may be currently uninhabitable after it was consumed by fire on Friday, but the Stratford couple are counting their blessings.
"I am grateful neither of us were at home at the time," says Alan, who was at work when he received a call from his daughter telling him the Juliet Street house was on fire.
"At that time, no-one could get hold of Linda on the phone, so we didn't know if she was inside the house. I was lucky to be working with a friend who just drove me to the house as fast as possible."
Fortunately, Linda was out with friends at the time, arriving back to see fire crews from Stratford, Toko, Eltham and Inglewood battling the blaze.
She and Alan say they owe a huge thanks to the volunteer firefighters who were there.
"They got some of our photos out for us, the frames are bent, but the photos are there," says Alan. He and Linda now need to take stock of all they have lost and work out what can be replaced.
"We are staying with family right now, but we need to find somewhere to live, and furniture as well. All of ours is gone."
He and Linda have been humbled by the kindness of those around them.
"Neighbours we have never met before came over, offering help and support. Inkpot cafe sent us some food, just everyone in the community has been so kind."
Much support has come from the local Jehovah's Witness congregation, of which he and Linda are members.
"We have lost a lot, but we are fortunate in having family and friends around us."
Deputy fire chief Kevan Old says the they are still investigating the cause of the fire, while much of the inside of the home was burnt and smoke billowed out of the roof.
Alan says it will be months before they can even consider returning to the home, where three of their four children were born, but he and Linda are just "thankful for what we do have".