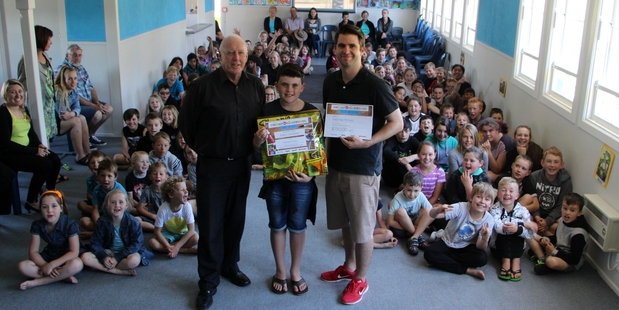 Christmas came early for one Kaponga School pupil on Wednesday morning with a gift pack from Office Max worth $250.
Aidan Campbell was one of only four children in New Zealand to be named as a winner in the Office Max Colour Your Classroom competition by writing an essay on who inspires him most in life.
Titled "My inspiration in life is my Nana", Aidan wrote an essay on all the wonderful things his Nana has shared with him over the years, including advice on how to deal with bullies, and sharing stories of her childhood.
"I find it surprising how similar her childhood and my school years are."
Aidan's teacher had him complete a 'pen licence' with Office Max earlier in the year, which is awarded for outstanding penmanship. On receiving his licence in the mail Aidan was also sent an entry form for the Colour Your Classroom competition.
"I like to write so I thought I would give it a go."
Aidan says he wrote the essay at home and didn't actually tell anyone he was entering.
"It was a real surprise to the school to hear that Aidan was a winner but we are incredibly proud," said deputy principal Haydn Wright at the special assembly that was called in Aidan's honour on Wednesday.
As well as winning the giant prize pack for himself, Aidan also won a prize pack of supplies for the school from Office Max and a $750 voucher for the school to spend on resources.
Aidan, who only found out he was the winner at the assembly, says he is glad he took a chance on the essay writing competition and encourages others to give similar competitions a go.
"It was definitely worth it. I am just so lucky to have someone as inspirational as my Nana in my life."