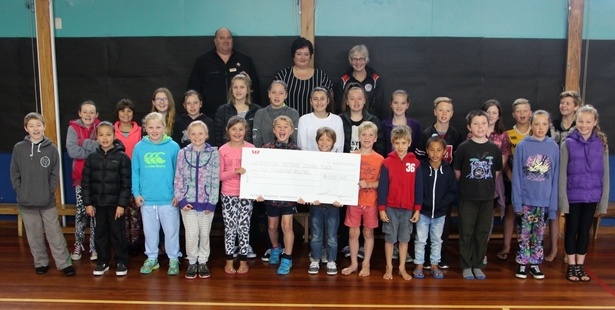 The Stratford Primary School Tuis say their $1000 cheque from the Stratford 5000 promotion is going to waste - a waste station for the school that is!
The school environmental group was one of the five winners of the Stratford 5000 promotion run by the Stratford Press, Stratford New World and Westpac Stratford.
The Stratford 5000 promotion gave the community the opportunity to vote for their favourite group to receive $1000. From 10 finalists, five eventual winners were selected by votes and over the past few weeks representatives from the three businesses behind the Stratford 5000 have been out and about in the community handing over the money.
Ella Coulton accepted the cheque on behalf of the Tuis saying they have been working hard on plans for waste station at the school.
"This money will bring our plans to life and give the staff and pupils the opportunity to join us in reducing the school's landfill waste."
Ella says the waste station will have components for compost, recycling and landfill waste.
Dan Harris, owner of Stratford New World, says the Stratford 5000 has been a hugely successful promotion.
"It has been fantastic to see all the wonderful groups we have here in Stratford and all the good they are doing in the community.
"I look forward to hearing about the impact of the Tuis' new waste station."
With the conclusion of the competition, Tracey Blake, multi media manager at the Stratford Press thanked all those who participated in the promotion by nominating and voting for the local groups.