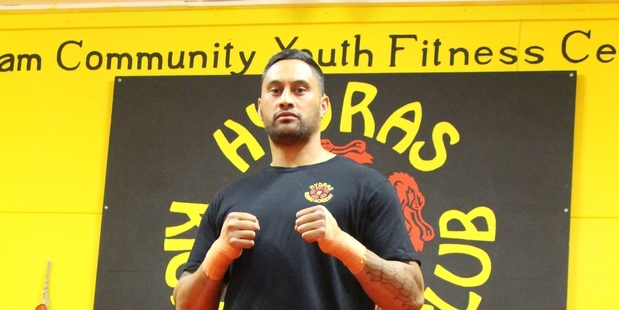 From a boxing ring in Eltham to fighting in the same ring as Joseph Parker, Shay Barlow's introduction to the professional boxing world has been fast and furious.
Shay, who trains at the Hydras Kickboxing Club and Boxing Academy in Eltham, will have all eyes on him after being selected to take on David Letele 'Brown Buttabean' in the undercard fight at the Joseph Parker world title fight in Auckland on December 10.
The much anticipated undercard fight will actually be a re-match for the pair, who stepped into the ring only weeks ago.
While Letele won the first fight, Shay says he plans to reverse those results this time.
Shay, who is Whanganui based, travels to Eltham twice a week to train with boxing coach Colin Smith at the Hydras Kickboxing Club and Boxing Academy.
"I only started boxing a few weeks before my first fight and when I heard that I was up against Brown Buttabean I knew I needed to train with the best," says Shay.
He adds that he had heard a lot about Colin and felt confident that he would be the right trainer to get him ready for the ring.
Colin says Shay showed that he was a real threat during his first match and is confident of the boxer's abilities.
Any boxer in New Zealand would love to have this opportunity and the promoters of the event specifically asked for him, so they obviously saw the same potential in him as I do.
Shay says following his last bout in the ring with Brown Buttabean he has had time to reflect on everything that Colin has taught him.
"It wasn't until I first stepped into that ring that I realised how much of an amateur I was to the sport. Hindsight is funny. Looking back at that fight I can understand everything he said and why," Shay adds, "I will be ready this time".
Shay was first introduced to the sport of boxing following a knee injury which abruptly ended his rugby and league career.
"I am very grateful to have met Colin and joined the Hydras, everyone at the gym is so encouraging. I have learnt so much from the other fighters as well as the trainers. It is a great gym to be a part of."