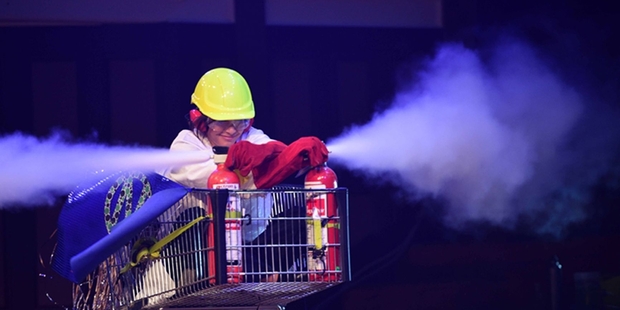 Nanogirl - Dr. Michelle Dickinson MNZM - is bringing science, technology and engineering to life for young people right across New Zealand this December with a national tour of her live, theatrical science show Little Bang, Big Bang.
With the support of Spark, the University of Auckland Faculty of Engineering and the MacDiarmid Institute, the tour will visit seven centres around New Zealand including New Plymouth.
Little Bang, Big Bang presents engineering and science in ways New Zealand has never seen before. Audiences can expect a performance packed full of explosions (LOTS of explosions!), liquid nitrogen, giant fireballs and daredevil stunts - there's even a jet-powered supermarket trolley! (See a video at nanogirllive.co.nz).
Little Bang, Big Bang is both the title and underlying idea behind the show. Each scientific concept is first explored with a 'little bang' - an experiment carried out with the help of a volunteer from the audience. From there, Nanogirl and her assistant Boris use engineering to build an experiment that explores the same science on a MUCH larger scale (the "BIG Bang"!).
Dr. Dickinson believes that understanding of science and engineering - and inspiring people to explore STEM subjects in education - is critical to New Zealand's long-term success.
"I'm passionate about ensuring that all New Zealanders have access to science education. One of my goals is to challenge the stereotypes around engineering and science. I really believe that science is everywhere - and for everyone - and that's what this project is all about. It's also a huge amount of fun!" says Dickinson.
A group of sponsors has come together to make this project a reality.
"We see science and technology playing an important role in New Zealand's future, and it's our children who'll be driving that," Clive Ormerod, General Manager Customer & Marketing at Spark says. "We want to them all to have the opportunity to do great things. This science show will be an awesome step toward that."
"I'm so excited to be bringing this show to towns and cities around New Zealand," Nanogirl says. "The experiments are going to be huge (talk about a BIG BANG!) - I just can't wait to get on the road. One thing I've learned already - steering a jet-powered trolley is harder than it looks!"
Little Bang, Big Bang is at the TSB Showplace on Saturday, December 10. There will be two shows, at 1pm and 6.30pm. Tickets are available online at nanogirllive.co.nz
See this week's Stratford Press for details on how to enter our competition to win a double pass to the 1pm show.