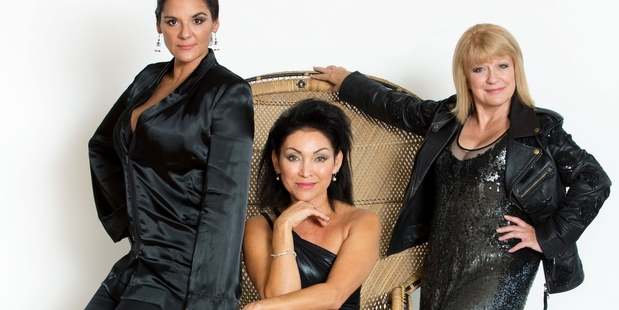 "I'm incredibly lucky really, to be so busy doing what I love."
Suzanne Lynch is a true New Zealand music icon, having performed with so many great international stars through the years, yet she is still down to earth and humble.
"We just get on stage and have lots of fun. Actually we have plenty of fun off stage too, but the point is, it's all fun and it's all about having a good time."
Suzanne performs as The Lady Killers along with Jackie Clarke and Tina Cross and says the trio are looking forward to performing in Taranaki this weekend.
"I've always had a warm spot for Taranaki in my heart. I married a Taranaki lad after all. So I do always enjoy visiting the region."
Suzanne says the group had a great time last time they performed at The Mayfair and are confident it will be just as good this time.
"We were there about a year ago and it was a wonderful night. I am sure it will be just as good this time as well."
Suzanne says the show isn't just about three women singing, saying not only do they have great artists playing piano and guitar with them, but the trio also entertain the audience with plenty of hilarious stories through the evening.
"It's mainly Jackie and Tina really, I can sit back and listen to them for ages.
"I don't think I have ever heard Jackie tell the same story twice, she is a master at storytelling and keeping people entertained. I love listening to the two of them."
The audience would be wise to listen out for tales from Suzanne as well however, as she certainly has plenty to tell.
With a music career spanning decades, Suzanne has spent time with many famous musicians and has the stories to match.
One time, a couple of years ago, she flew back from Fiji.
"I got in to my phone ringing, and it was the tour manager for Cat Stevens, who is now known as Yusuf Islam.
"I spent some years travelling with him as part of the Cat Stevens band. He wanted to know if I could join him in Christchurch the following night and join him on stage, so I pretty much jumped back on a plane and got there."
Listening to Suzanne talk, you get the feeling you could listen for hours and be entertained without her even singing, however, the music is certainly worth listening to, and Suzanne says the trio pride themselves on the range of songs they perform.
"I love performing Old Man by Neil Young for example, but then we move into singing Sweet Child of Mine, and both are great songs.
"We say we preform from a whisper to a scream and everything in between and we really do."
The Lady Killers will be performing at The Mayfair, this Saturday night at 8pm. Door sales are available.