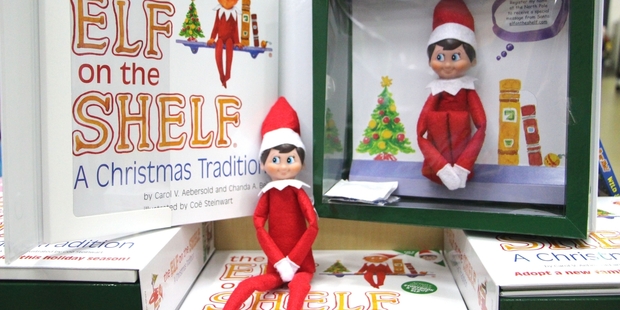 Elf on the Shelf is a popular Christmas tradition with many families around the world.
Now the Elf and accompanying book can be purchased in Stratford from Paper Plus Stratford and store director Margie Hodgetts has given the Stratford Press a box set of the book and an elf to give away.
This particular elf is a young boy, and he is a keen bookworm. Every morning they find him curled up reading a different book! Over the past few weeks, Paper Plus has been printing a photo of the elf along with a hint about what book he is reading that week. Guess which book he is reading (and all the books featured can of course be found in Stratford Paper Plus) and email your answer to the Stratford Press, along with your name and contact phone number. You can enter every week, one entry per household please. Please include 'elf' in your subject line if emailing. The winner will be drawn in next Friday, December 2, in time for the elf to settle in his new home and report to Santa.
This week our pointy-eared friend has been enjoying a book about a very small mouse who goes for a walk in the woods. While there he meets a variety of woodland creatures who all want to eat Mouse.
Mouse however, has other ideas, telling them about his imaginary friend who is likely to eat roasted fox or scrambled snake.
Know the answer? Email or call us, including your name and contact phone number. Look for the final chance to win next week. Email: editor@stratfordpress.co.nz or call on 06 765 5471. Put 'elf' in the subject line if emailing, and leave us your name and contact phone number.