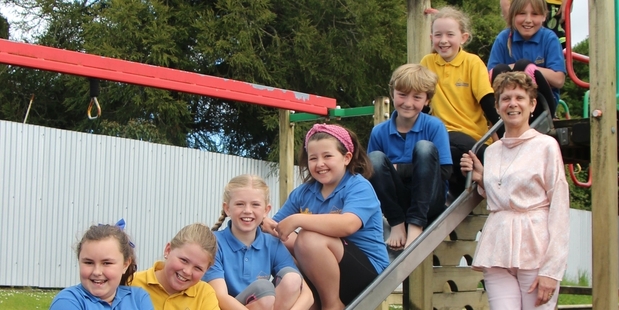 It's tough to say goodbye, says principal Caroline Beissel as she finishes her final term at Pembroke School after 27 years.
"I always knew I wanted to join a country school and Pembroke School has been the absolute perfect fit."
Caroline says she is looking forward to spending time with her family and on retirement she and husband Stuart plan to move closer to their daughter and grandchildren in Waikanae.
She says however she will miss her 'other family', the pupils and whanau of Pembroke School. Looking back at her time at Pembroke School, Caroline says she has been proud to see the school grow from strength to strength.
"When I started we had a roll of 21 pupils and now we have more than 60."
She adds the school itself has also changed with the modernisation of all the school buildings, the addition of two adventure playgrounds and a brand new sports turf. It's not just the premises that have changed.
Education has also changed significantly over the years.

Pembroke School is now part of a really great cluster of schools who all work together to provide our students with as many opportunities as possible.
While Caroline will be leaving the principal's office for good in December, but she says it won't be her last time in the classroom.
"I would like to pick up some relief teaching work in Taranaki and then Waikanae. Teaching has always been my passion and I would like to continue working with children."
Caroline says this passion began as a young child.
"My father was a teacher and I always knew that was what I wanted to do. I enrolled in teachers' college at only 16."
Her first placement as a junior teacher was at a country school, much like Pembroke School. It was the best experience and sold it to me that a country school was where I wanted to be."
Caroline says her time at Pembroke School has been made all the more special by the on-going support of the school families, PTA and Board of Trustees.
"I have always had such a wonderful support network of people alongside me."
Term four has been bitter-sweet for Caroline, a term of lasts.
"I've been a part of my last pet day and are currently preparing for my last school camp. It's very sad but they will all be wonderful memories that I hold on to forever."