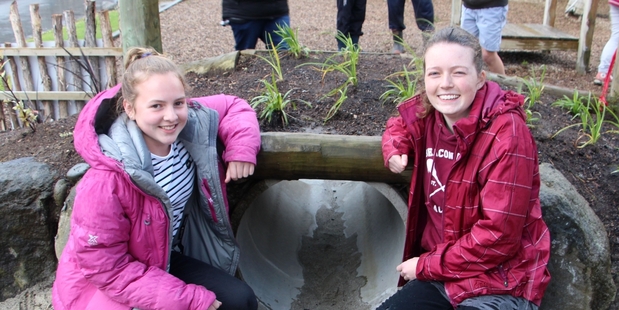 Wet weather didn't dampen the spirits of the friends and families of Kaponga School at the official ribbon cutting ceremony of the school's new sandpit area.
Principal Shane Downs says the sandpit project has been 18 months in the making and has been "well worth the wait".
When vandals scattered glass through the old sandpit it meant pupils had to go without while the school decided how best to dig out the old area.
"Looking back now, it was hugely disappointing, but now we can see it was an opportunity to create something amazing."
Shane says the new sandpit area is the result of a group of determined pupils, generous sponsors and hardworking parent and board of trustee volunteers.
Dana Downs, teacher in charge of the project, says the process was a "labour of love".
"We are so thrilled with the outcome of the sandpit. The pupils planned the whole project from start to finish and seeing it completed is a real testament to how much effort they have put in."
The sandpit area has been inspired by the Taranaki region, with one end representing the sea with a beach hut, jetty and boat. The sandpit then moves into a bush theme with native plants and flaxes and finally a rural land theme complete with a four wire fence and water tank.
Dana says pupils went on school visits around the region to see what other schools had to offer and completed a survey with the school about what they wanted to see.
"We put together the design based on the most popular suggestions and I think it is safe to say everyone is blown away by the finished product."
At Wednesday night's official opening, children had the chance to dig for coloured popsicle sticks which when handed in were swapped for treats.
The biggest prize, says Shane, will be given to the child, who finds the shoe at the bottom of the sandpit that went missing during one of the working bees!
While there is still some work to be done on the play area, Shane says the school is thrilled to be able to open the area to pupils to enjoy before the end of the school year.
"This isn't just for pupils of Kaponga School, this is an asset to our whole community and we encourage everyone in the area to visit our sandpit and have a dig."
For more photos of Kaponga School's sandpit opening see the photo page on page 39.