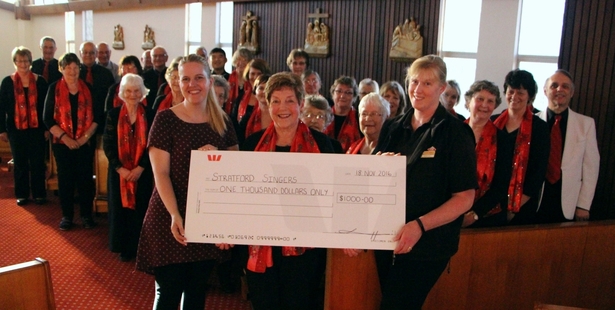 They won't need to sing for their supper now, with $1000 being handed to the talented members of Stratford Singers on Monday night.
The choral group was one of the five winners of the Stratford 5000 promotion run by the Stratford Press, Stratford New World and Westpac Stratford.
The Stratford 5000 promotion gave the community the opportunity to vote for their favourite group to receive $1000. From 10 finalists, five eventual winners were selected by votes and over the past few weeks representatives from the three businesses behind the Stratford 5000 have been out and about in the community handing over the money.
Stratford singers president, Gloria Webby, says the group are "incredibly thankful" for the donation, which will be put towards the costs involved in promoting their latest concert, taking place this Sunday, November 27 at 2pm.
Featuring four choirs, and taking place at the Stratford Catholic Church on Miranda Street, Gloria says the concert will be an afternoon of seasonally festive music.
Gloria says the Stratford Singers were delighted to have been one of the top five groups in the Stratford 5000 promotion., She and her fellow choristers are grateful to all who voted for them. Special thanks are also due to the sponsors of the promotion, Stratford New World, Westpac Stratford and The Stratford Press.
"It's always a pleasure to be able to support the arts in our community," says Rebecca Harris of Stratford New World, who enjoyed a taste of the choir's musical talent as she presented the cheque at their rehearsal on Monday night.
"Just hearing this group start singing tonight was fantastic," Stratford Press managing editor Ilona Hanne said.
"I recommend people mark the concert date in their diary now and prepare to enjoy a wonderful afternoon of beautiful music this Sunday."