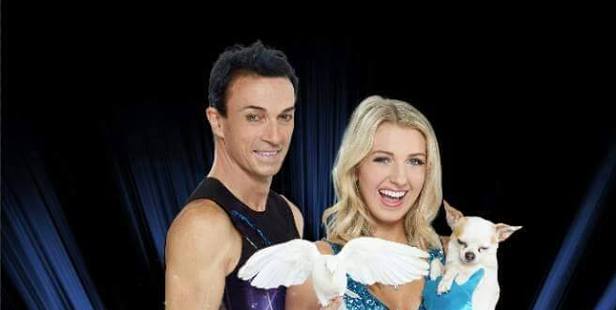 Disappearing assistants, magically appearing rabbits, chihuahuas and doves and even things being set on fire! The Andre Vegas Magic and illusion show certainly has plenty of tricks up its sleeve when it comes to keeping an audience entertained.
Andre Vegas and his glamour assistants, plus a menagarie of cute animals, are in Taranaki currently and the Stratford Press went to see their show in Hawera agead of tomorrow's Stratford show.
Someone wise once said, never work with chidren or animals, yet Andre Vegas does both with style and aplomb. Even when confronted with a young volunteer from the audience who then changed her mind, refusing to help with the various tricks, Vegas didn't miss a beat, simply changing tack and adapting.
His friendly manner with the younger audience members, along with a couple of good old fashioned fart jokes, ensured they were constantly entertained, while the adults, dragged along by their children, found themselves equally entertained as the magic just kept happening.
At times it was hard to know when to clap, as just as you thought a trick had finished, "wait - there was more".
I was joined by three young reviewers, aged 5, 8 and 11. The 11-year-old was sure he would work out the magic behind each illusion, but was constantly left stumped. Just as he thought "I know how that is done," a twist would reveal something else instead.
The 8-year-old thinks the assistants are the best part of the show - sorry Andre - and says they were "magic to watch".
As for the five-year-old...being selected from the audience to help was celarly a highlight, and he is now convinced he has magic powers. Sadly for him, all attempts to change the cat into a chihuahua have so far failed, to his disappointement and the cat's relief.
I was sorry to see a relatively small crowd come out to watch this magic show, at $10 for a child and $15 for an adult, tickets aren't badly priced, and I don't think much can beat watching a live magic show, especially when presented by one as talented and as good a showman as Andre Vegas.
Live shows like this have the extra appeak of being able to actually meet the stars of the show afterwards, even the rabbit came out for photos!
This show doesn't only remind you of all that is magic about illusion shows, but it also reminds you that New Zealand really does have talent.
Andre Vegas puts on a fantastic show and if you haven't got your tickets yet, then get them now and don't miss out on a great family fun afternoon's entertainment. (Tickets available from eventfinder).