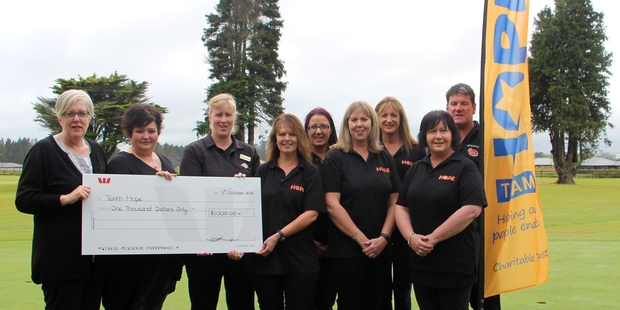 A cash injection of $1000 will go a long way with "helping our people endure," says Toni Bailey, president of Team HOPE.
The Stratford based charity group were one of the five winners of the Stratford 5000 promotion run by the Stratford Press, Stratford New World and Westpac Stratford.
The Stratford 5000 promotion gave the community the opportunity to vote for their favourite group to receive $1000. From 10 finalists, five eventual winners were selected by votes and over the next few weeks representatives from the three businesses behind the Stratford 5000 are getting out and about in the community to hand over the money.
Team HOPE provides financial assistance to families in the Stratford community who are facing some sort of adversity.
Toni says the $1000 donation was used to cover the costs of the group's fundraising golf tournament held on Friday.
"The golf tournament is our big fundraiser for the year and we have been blown away by the support of the local community in helping us make it such a success. The contribution from the Stratford 5000 has made this possible and we are so appreciative of everyone who voted for us."
Rebecca Harris, owner operator of Stratford New World, with husband Dan, says she was delighted to hand over $1000 from the promotion.
"Team HOPE do a fantastic job supporting members of the community in times of need. Groups like this are what make towns like Stratford so great."