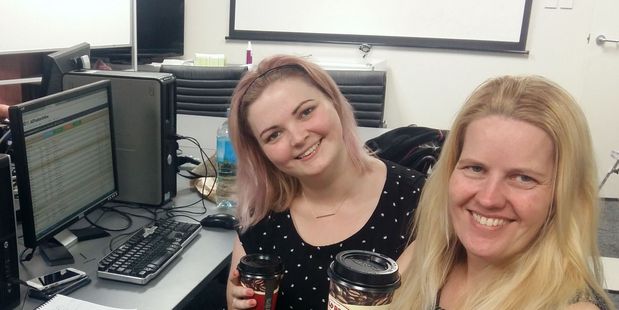 We won't let a bit of wild weather or shaky ground stop the Stratford Press reaching your mailboxes.
After the earthquake in the first few minutes of Monday, the Stratford Press office lost power, and as of Tuesday morning we still had no power in the office.
Thanks to modern technology and teamwork, we have been able to move ourselves to the NZME radio office in New Plymouth to work from there to get the paper out in time.
The editorial team headed to the new location on Monday night, and we were joined by the advertising team on Tuesday morning.
Stratford Press multimedia manager Tracey Blake says she appreciates the support of clients and advertisers, "who have been understanding and flexible as we have made this temporary move".
Managing editor Ilona Hanne says working from the radio office has been an interesting experience.
"It is great to see how the other parts of our business work and we are lucky the nature of our business means we are truly able to work from anywhere when we need, as long as we have access to computers and the internet!"
The earthquake and ensuing aftershocks on Monday gave most of New Zealand a valuable reminder of the need to be prepared.
If you haven't done it recently, now would be a good time to update your emergency kit and remind yourself of some important contact numbers or websites to keep yourself informed in an emergency.
Make sure you also write down contact details for family and friends in case you can't access your mobile.
What to put in your survival kit
According to getthru.govt.nz, the following items should be included in emergency survival packs and getaway kits:
- Torch and radio with spare batteries, or self-charging torch
- Any special needs such as hearing aids and spare batteries, glasses or mobility aids
- Emergency water and easy-to-carry food rations such as energy bars and dried food.
- First aid kit and essential medicines
- Essential items for infants or young children such as formula and food, nappies and a favourite toy
- Change of clothes (wind/waterproof clothing and strong outdoor shoes)
- Toiletries - towel, soap, toothbrush, sanitary items, toilet paper
- Blankets or sleeping bags
- Face and dust masks
- Pet supplies
- Important documents such as identification (birth certificates, passports etc), financial documents
Food and water for at least three days:
- Non-perishable food (canned or dried food)
- Food, formula and drinks for babies and small children
- Water for drinking - at least three litres per person per day
- Water for washing and cooking
- A primus or gas barbecue to cook on
- A can opener
What to do during an earthquake
If you are inside a building, move no more than a few steps, drop, cover and hold. Stay indoors till the shaking stops and you are sure it is safe to exit. In most buildings in New Zealand you are safer if you stay where you are until the shaking stops.
If you are in an elevator, drop, cover and hold. When the shaking stops, try and get out at the nearest floor if you can safely do so.
If you are outdoors when the shaking starts, move no more than a few steps away from buildings, trees, streetlights, and power lines, then Drop, Cover and Hold.
If you are at the beach or near the coast, drop, cover and hold then move to higher ground immediately in case a tsunami follows the quake.
If you are driving, pull over to a clear location, stop and stay there with your seatbelt fastened until the shaking stops. Once the shaking stops, proceed with caution and avoid bridges or ramps that might have been damaged.
If you are in a mountainous area or near unstable slopes or cliffs, be alert for falling debris or landslides.
After an earthquake
Listen to your local radio stations as emergency management officials will be broadcasting the most appropriate advice for your community and situation.
Expect to feel aftershocks.
Check yourself for injuries and get first aid if necessary. Help others if you can.
Be aware that electricity supply could be cut, and fire alarms and sprinkler systems can go off in buildings during an earthquake even if there is no fire. Check for, and extinguish, small fires.
If you are in a damaged building, try to get outside and find a safe, open place. Use the stairs, not the elevators.
Watch out for fallen power lines or broken gas lines, and stay out of damaged areas.
Only use the phone for short essential calls to keep the lines clear for emergency calls.
If you smell gas or hear a blowing or hissing noise, open a window, get everyone out quickly and turn off the gas if you can.
If you see sparks, broken wires or evidence of electrical system damage, turn off the electricity at the main fuse box if it is safe to do so.
Keep your animals under your direct control as they can become disorientated. Take measures to protect your animals from hazards, and to protect other people from your animals.
If your property is damaged, take notes and photographs for insurance purposes. If you rent your property, contact your landlord and your contents insurance company as soon as possible.
(Source: getthru.govt.nz)
Helping children deal with the mental impact of an earthquake:
On Monday, psychologist Nigel Latta posted advice on social media for coping with the mental impact of the quake, particularly for children.
"Reassure your little people. Keep calm and carry on best message for kids," he posted on Twitter.
"Tell your kids aftershocks are just the earth farting. Have a laugh where you can. Follow news but try and get kids focus off news."
Useful websites:
www.stratford.govt.nz
www.nzherald.co.nz
www.stratfordpress.co.nz
www.cdemtaranaki.govt.nz
www.geonet.org.nz
www.powerco.co.nz
www.trc.govt.nz
www.getthru.govt.nz
If your property is damaged
- Contact your insurer
- Take photographs of the damage for insurance claims
- Keep all damaged items for inspection.
- Make a list of any perishables you have to dispose of.
- Try and prevent further damage by making the building safe and weatherproof is it's safe to do so
- Get essential services repaired e.g. water, electricity, gas, sewerage - keep copies of your bills.
- Don't start non-essential repairs without the insurance company's approval.
(Source: Advice from Insurance Council NZ)