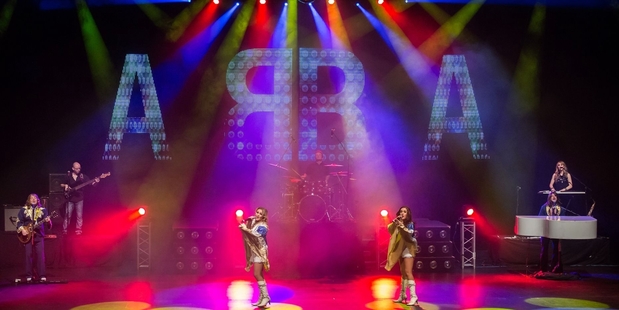 New Zealand is set for a big month of dancing and sequined frivolity when the world's premier ABBA tribute The ABBA Show jets in for a full national tour this November. And Taranaki ABBA fans won't be missing out, with a one-night only show booked for the TSB Showplace, Sunday, November 20.
Following more than 4000 international performances to date, including recent tours of North America and South Africa, the show's NZ tour will take in an exhausting 22 different venues in just 34 days.
Far from being 'just another cover band', The ABBA Show is a full-scale concert experience and stage show featuring two-and-a-half hours of live musical performances with a live band, replica costumes and theatrical lighting and effects.
Audiences can sing along to Dancing Queen, Knowing Me Knowing You, Ring Ring, The Winner Takes It All, Fernando, Super Trouper and many more.
Despite Mamma Mia (the musical) still doing the rounds, promoter John Van Grinsven from Showtime Australia is confident that fans will recognise the distinct and worthwhile experience that The ABBA Show offers.
"They're completely different shows. Mamma Mia is a great musical but The ABBA Show does more of an authentic concert experience. We've worked really hard to make it just the way the fans will remember it if they were lucky enough to see the originals perform live. It really is a unique show."
The cast of the show, including Brits Hannah Pocock as Agnetha and Jenna Ball as Frida and Aussies Cameron Charters as Bjorn and Brent McMullen as Benny, has put in countless hours to achieve the attention to detail that the show is famous for. In addition to pre-production rehearsals in Australia and solo rehearsals in their own hometowns across the globe, the cast uses free days during their tours to practise and study old ABBA footage in order to perfect intricacies like accents and mannerisms. With some venues already close to selling out, the cast is looking forward to big crowds and great atmosphere for the upcoming tour.
Visit theabbashow.com.au for tickets or more information.