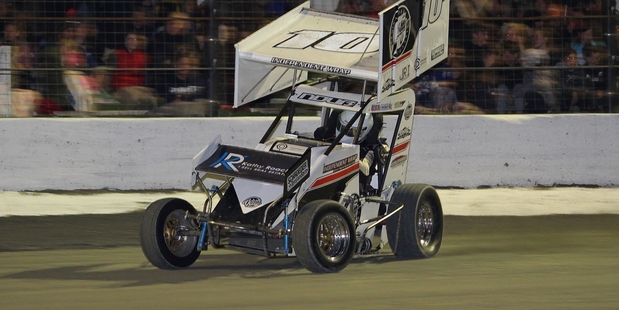 From roll-overs to knock-out hits, Stratford's' action attraction did not disappoint speedway fans on Saturday.
After a rain out during last week's meeting, drivers came out on to the track all guns blazing and it wasn't long until spectators got more than their money's worth.
The roll-over incentive increased to $150 which was too tempting for Stratford driver Josh Perrett, first targeting Palmerston North's Craig Healey, who limped away with a damaged front bumper, before rolling Stratford's Kerry Morell only a few laps later.
Stratford favourite Josh Walsh dominated the stockcars, winning two of the three races to take out the City of New Plymouth Classic ahead of Kylee Symes and Bevan Phillips.
Phillips fought hard for the podium spot, with an impressive run off against Rowan Urlich to secure third.
Lap records are meant to be broken and that's exactly what Minisprint driver Shaun Dickie did , breaking the record he had only just made last week.
Dickie posted a 13.46 second lap in race three to fly away with the win. A second in race one, from grid nine and a first in the race two put Dickie on top of the points for the City of New Plymouth Classic for the Minisprints ahead of Karl Uhlenberg who had another impressive meeting in his 28s car, and Wanganui driver Cameron Hurley.
The streetstocks class had their debut and it was Steve Reed who took the top podium spot for the New Plymouth Classics, ahead of Cheyanne Reed and Matt Blinkhorne.
The Nolly brothers claimed the second and third spot for the adult Ministock City of New Plymouth Classic, but it was Bradley Korff who reigned supreme on the night, with 58 points after a race win and two seconds.
In the saloons class, Craig Korff, Thomas Korff and Richard Dreaver claimed race wins in their second meeting for the season.
It was deja vu in race one and two of the superstock class with Phil Ogle and Carl Shearer placing first and second respectively in both heats. In the third heat Shearer spun Ogle out which meant some interesting tactics in the classes fourth race, where spectators were treated to some teams-like racing, but Andrew Lewis took the race out.