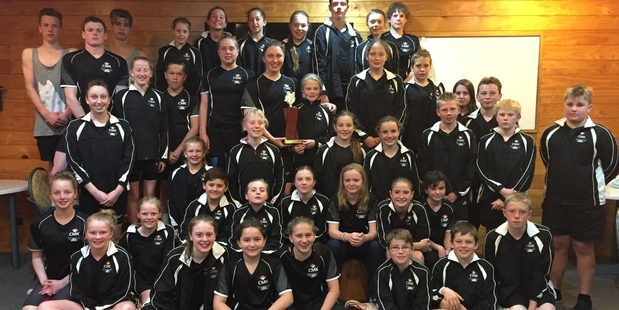 CMK Stratford Flyers swimmers travelled to Rotorua over Labour Weekend to compete in the Central North Island Championship.
This was an all-ages meet where the squad managed to take out top points over all 30 squads competing and bring the trophy home. Congratulations Flyers! A great meet where the culture of the squad was evident with a lot of support for each other within the squad (great team work) and awesome results due to all the effort from training paying off.
Claudia Taylor and Josh Gilbert were awarded CNI Scholarships based on their results at National Age Groups in April 2016.
Josh broke a Taranaki Record in the 14/15 yrs short course 50m butterfly, (Benjamin Smith's 27.18 now 26.68). Ilana Kerr qualified to join the National Age Group team next year in March. Welcome to the Flyers Travelling team - Jorja Agent, Samara Agent, Masyn Austin, Macy and Ruby Edwards, Jayda and Kyan Hancock, Jack Keller, Dylan Kowalewski, Sienna Stosic, Oliver Tippett, Arnika Watson and Pascoe Wells. They swam exceptional well for their first meet with many getting 100 per cent personal best times.
Two relay teams came away with new towels for taking out the 13 and 14 x 50 freestyle relays. In the males, Luca Zabel, Braiden Higgison, Morgan Mills and Pawhare Packer, and females Eleanor Gilbert, Payton Agent, Nina Goble, and Ilana Kerr.
- Top 3 finishes; Zarhn Collins, Eleanor Gilbert, Josh Gilbert, Chris Johnson, Jack Keller, Ilana Kerr, Alex McGeoch, Orion McGeoch, Pawhare Packer, Brittany Taylor, Claudia Taylor, Lauren Wood, Alina Zabel, Luca Zabel, Danni Poulsen-Cook
Swimmers in top 8 making finals; Emma Baldock, Payton Agent, Lauree Collins, Bella Hancock, Braiden Higgison, Tyler Kidd, Dylan Kowalewski, Morgan Mills, Vili Rova, Heidi Sextus, Oliver Tippett , Nina Goble, Cormach Hughson-How, Anina Loveridge and Eva McGeoch.
Personal Best Times; Jorja Agent, Samara Agent, Masyn Austin, Macy Edwards, Ruby Edwards, Jayda Hancock, Kyan Hancock, Skie Higgison, Sienna Stosic, Arnika Watson, Pascoe Well and Meg Baldock.
The team has a competition break for a few weeks now to focus on training. In December they will race at end of year meets in New Zealand and Australia.