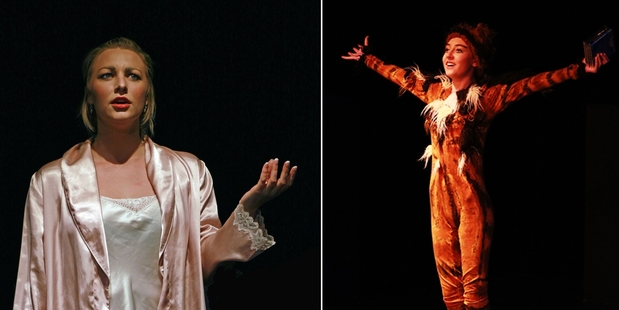 The inner monologues of six women are revelled in a comedic fashion in Hawera Repertory's newest production Bombshells.
Bombshells isn't a play in the usual sense, as the six women, from very different walks of life, share with the audience their inner struggles through individual monologues as they balance their outward appearances with their subconscious doubts.
Each performance is enjoyable on a different level as audiences will sympathise with the range of relatable situations.
Lorraine Wilkie opens the show with her cactus-loving character, Tiggy. While giving a talk about her plant passion, Lorraine's performance soon divulges into the similarities between her beloved cacti and her equally prickly ex-husband.
Blushing bride Zoe, played by Angelique Poczwa, hilariously struggles with her inner turmoil as she faces her future with one man for the rest of her life.
Zoe Snowdon, the show's youngest actress, plays a similarly aged character, the eccentric performer Mary O'Donnell. Mary is preparing for her moment in the spotlight in the school talent show and if Mary is half as talented as Zoe she is a contender for first place.
Meryl, the overworked and over-tired mother of three, is played by Hollie Weir. Hollie's performance of the non-stop day and inner thoughts of a frazzled mother will tickle the funny bone and pull on the heart strings of audiences.
Winsome, a homely widow played by Jane Lawrence, has a simple life of lunches and bridge games with her similarly widowed friends. However as her saucy secrets are revelled, the performance will soon have audiences seeing her in a new light. Bombshells comes to a somewhat explosive end with the final monologue of another Zoe, an over-the-top and over-the-hill cabaret singer, played by Cherol Filbee. In her glitzy frock, the 'sober' singer is clutching the last moments of her time in showbiz.
Director Clive Cullen has produced a side-splitting show that makes for a great night out for adult audiences.
Bombshells opens on November 9 until November 19. Tickets are available from Hawera iSite or www.ticketdirect.co.nz