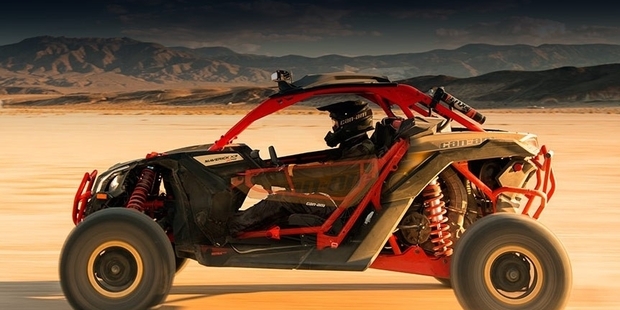 The popularity of off-road racing in Taranaki has been steadily increasing over the past few years, says Gavin Dey of Taranaki Motorcycles.
Because of the increased interest in the sport, Gavin says he is thrilled to have the opportunity to stock the latest and greatest race-ready vehicle, the Can-am Maverick X3, produced by BRP.
"The Can-am Maverick X3 is a racing vehicle with more power and suspension than any other model on the market."
Gavin says with the very nature of the sport, replacement parts for race vehicles are an unavoidable consequence of taking on the toughest of tracks.
"As opposed to custom built vehicles, the Can-am Maverick X3 is produced race ready with a whole range of parts and accessories that are easily sourced, making repairs of the vehicle much more convenient."
Gavin says in his opinion the Can-am Maverick X3 is the leading race model on the market and has "leap-frogged" all of the competing models. He is looking forward to work with the Taranaki Off-Road Racing Club to demonstrate the power of the new race vehicle.
BRP made a promise to customers that a new side-by-side vehicle will be produced every six months through to 2020.
"With the Can-Am Maverick X3, we set a goal to deliver a clear leader in the sport segment, and our teams worked together and produced a bold vehicle with incredible looks, agility and performance," Jos Boisjoli, BRP's president and CEO says.
The Can-Am Maverick X3 vehicle is offered in three packages - Maverick X3, Maverick X3 X ds and Maverick X3 X rs.
Maverick X3 Specifications:
Provided by BRP
- The Maverick X3 side-by-side vehicle is an adrenaline rush.
It has an extremely bold, distinctly Can-Am character, and it is designed so the driver and passenger feel connected to its every move.
It features a low seating position, superior fit-and-finish and advanced Ergo-Lok cockpit that connects occupants to the vehicle for an enhanced driving experience.
- The Can-Am Maverick X3 vehicle features a best-in-class, high-performance TTX rear suspension that has an industry-leading 24" of travel (Maverick X3 X rs).
It also has an ultralight, fully welded chassis that delivers precise handling, exceptional durability and stiffer torsion. Its 102" wheelbase is 12" longer than the closest competition, and when combined with its balanced weight distribution (44/56) and up to 30" tires, the Maverick X3 delivers more comfort and confidence at high speeds with superior stability in even the most challenging terrain.
- An all-new 154-HP turbocharged and intercooled inline, triple-cylinder Rotax ACE engine provides the Can-Am Maverick X3 side-by-side vehicle with commanding, all-around performance.
A highly efficient airflow system and performance-tuned transmission ensure the engine operates efficiently and at optimal levels. It has the ability to go 0-60 MPH in 4.9 seconds and has a high-performance QRS-X CVT calibrated to work with the turbo to virtually eliminate lag and enhance throttle response without shifting or torque interruption.