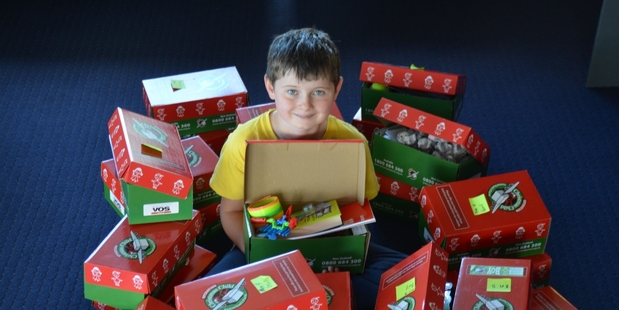 Billy Green doesn't know exactly what he would like for Christmas this year, but he does know what he wants to see other children get.
"The shoeboxes go to children who don't get much ever. They don't get presents for their birthdays or for Easter, and these might be the only thing they get at Christmas, so I want the boxes to be filled with lots of good things for them."
Billy and his family filled a shoebox or two some years ago.
"I was really little, maybe two years old at the time." He still remembers the fun of selecting toys and gifts for a child living overseas.
"We decided to do it again this year, and mum asked my school to get involved as well."
Billy says his school, Stratford Primary, was happy to be involved in the shoebox project, known as Operation Christmas Child, which delivers shoeboxes stuffed full of gifts to needy children in more than 100 countries.
Reverend John Mattock, of St Andrews Presbyterian Church in Stratford, says he was completely blown away when the school called and told him they had 30 shoeboxes to deliver.
The church is the local drop off point for Operation Christmas Child shoeboxes, and John says he is delighted with the response this year.
"We have some people who do them throughout the year, and then we have some which come in right at the end. It is a great project, it teaches so much, about thinking of others, and appreciating the little things."
The Stratford Primary boxes, along with all the other boxes from people in the Stratford area have now been collected in and sent off to the distribution centre, and John says people are already hard at work on ones for next year.
"The best time to shop for gifts is right after Christmas of course, when the sales are on."
Billy says if anyone is thinking about doing a box or two, "you really should".
"It's nice to think of other children and it's fun choosing what goes in."
He has some tips for people wondering what to include in the box.
"Most kids like toys, maybe a Hotwheels car if it is a boy, or a small box of Lego. A teddy or a book, and you can put stuff in that is useful as well like a toothbrush or some socks."
Find out more about Operation Christmas Child: www.operationchristmaschild.org.nz or visit St Andrews Presbyterian Church, corner Regan and Miranda streets.