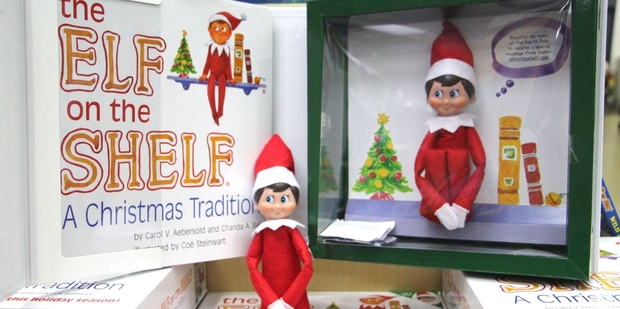 "Have you ever wondered, how Santa could know
If you're naughty or nice each year as you grow?
For hundreds of years, it's been a big secret
It now can be shared if you promise to keep it ... "
According to Carol V Aebersold and her daughter Chanda A Bell, the imaginative writers behind The Elf on the Shelf, the secret is simple - a small Elf scout sent by Santa to keep a watchful eye on children's behaviour.
Carol says the idea started when her own children, including her daughter Chanda, were small as a way to encourage good behaviour.
Now a Christmas tradition in thousands of homes worldwide, the Elf on the Shelf is a fun way to encourage youngsters to be good or risk getting on Santa's naughty list.
Margie Hodgetts, director of Stratford Paper Plus, says she is thrilled to be stocking (no pun intended) box sets featuring the storybook setting the scene as well as a "real live" elf ready to be adopted.
"Obviously Stratford children are very well behaved generally, so these elves might not have much reporting to do, but I am sure families will have plenty of fun finding where the elf is hiding each day."
Margie says the tradition has some simple rules - the elf needs a name once s/he moves into your home, and children must not touch the elf, or the magic will disappear and the elf will no longer be able to go back to Santa to tell him if children have been naughty or nice.
Every night the elf heads off to the North Pole to report on the previous day, then in the early hours s/he returns and finds a new hiding place in the house. Children love looking to see where the elf is hiding each day (and sometimes to see the mischief the elf might have got themselves into. Tales have been told of elves falling into toy boxes, caught in the lolly jar or hanging from a lampshade).
WIN: Margie has given the Stratford Press a box set of the book and an elf to call your own to give away to one lucky reader. This particular elf is a young boy, and he is a keen bookworm. Every morning we find him curled up reading a different book! This is a fantastic prize, so we want you to work hard for it! Over the next few weeks, we will be printing a photo of the elf along with a hint about what book he is reading that week. Guess which book he is reading (and all the books featured can of course be found in Stratford Paper Plus) and email us your answer, along with your name and contact phone number. You can enter every week, one entry per household please. Please include "elf" in your subject line if emailing. The winner will be drawn in late November, in time for the elf to settle in his new home and report to Santa.
This week our pointy-eared friend has been enjoying a book featuring a little Kiwi who "bounced in pure delight" as she "flew" through the sky on a magical sleigh ...
Know the answer? Email or call us, including your name and contact phone number. Look for another chance to win next week.
Email: editor@stratfordpress.co.nz or call us on 06 765 5471.