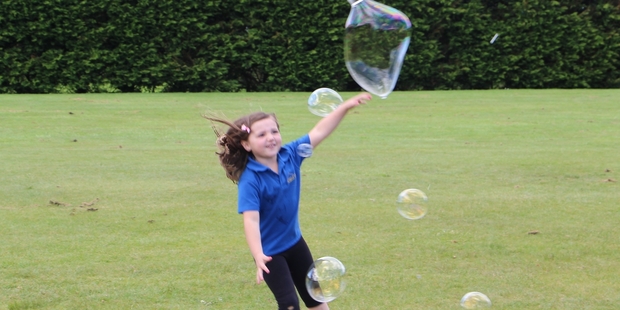 "They feel squishy and are fun to pop."
When Taranaki's Bubble Man (aka John Pollard) visited Pembroke School last Thursday, Addison Thoms (5) had plenty of fun, as did the rest of the youngsters at the school.
Addison said she liked chasing the bubbles on the grass best, adding she caught lots of the really big ones.
"I was really fast and jumped really high."
The visit by the bubble-creating entertainer was originally scheduled to take place for the school's calf and lamb day, however inclement weather meant the bubble-themed fun was rescheduled to the day after.
Each class had a turn at chasing the bubbles across the school field, and it seemed no-one was too old to enjoy the good old fashioned fun of chasing bubbles to pop.
Older pupils were fascinated by the demonstration of creating bubbles inside of other bubbles, while the younger ones enjoyed seeing how large the bubbles could get.
The Bubble Man himself says it seems "most kids love bubbles, you never really have ones who don't. And why wouldn't they? Bubbles are fun however old you are".
John Pollard - Taranaki's Bubble Man can be contacted on 06 753 6560 or 027 348 6755 and he takes booking for parties, events and weddings.