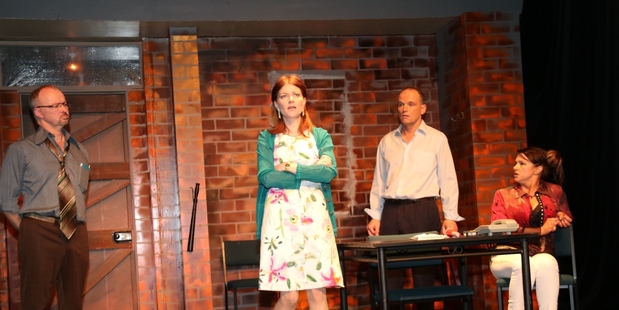 Love, laughter and lies take centre stage in Forget Me Knot, currently being performed at the Cue Theatre in Inglewood.
Set in an English police station, the play delves into the mystery of Robert Zeinfeld, played by Simon Buick, who is found wandering the streets at 4am, with no memory of who he is or how he got there.
Inspector Monroe, played by Lindsay Franklin, is dedicated to getting to the bottom of this conundrum, questioning if the mystery man has in fact lost his memory or is all an elaborate cover-up, and if so for what?
Taking a comedic slant, the play unfolds and the audience is treated to side-splitting scenes and witty one-liners that make for a thoroughly enjoyable performance.
The wives of Robert and Inspector Monroe, played respectively by Katherine Wolfe and Karlina Nickson are polar opposites, with Julia Zeinfield being snobby and snarky and Samantha Monroe a saucy temptress. Despite their differences, the audience discover they may well have more in common than outwards appearances suggest.
The cast makes use of the simple, yet effective set and the technical team does a wonderful job of dividing scenes with the use of lighting changes and sound effects.
Director John Butler has directed a downright hilarious show that can be enjoyed by audiences of any age and is a great night out for everyone.
Forget Me Knot is on now and runs until November 5. Tickets can be purchased from the Inglewood Book Centre or phone 06 756 7032.