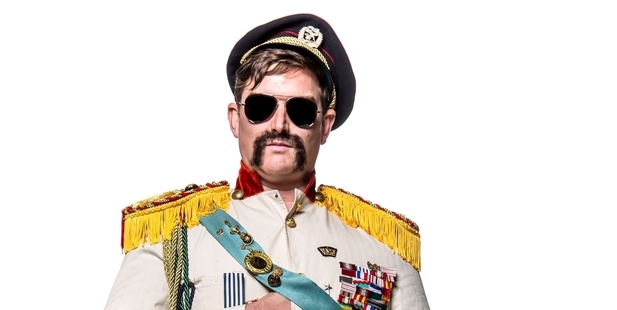 Self described "benevolent dictator" Heath Franklin's Chopper is coming to Taranaki next week with his smash hit show Live From Anzakistan. See this week's print edition of the Stratford Press for details on how to win a double pass to the show.
After taking over the former countries of New Zealand and Australia, then throwing out the s**t bits, Chopper's created the world's newest superpower Anzakistan, and claims he's just the bloke to run it.
"Looking at how democracy is playing out in today's society I think it is clear that I am the right dictator to run things," says Heath as he references the "giant assclown" Donald Trump.
"He's not the sort of bloke we need around here."
Heath says in culling the s**t bits of the two nations, Taranaki will be kept safe.
"Other than physically it being quite difficult to get rid of a piece of land with a giant mountain on it, I do have a soft spot for the region."
Heath says he lived in Hawera for some time in 2009 while working on a movie with Kiwi comedian Jemaine Clement.
"While visiting Stratford one day I saw quite possibly the most 'Kiwi' thing ever."
Heath describes seeing a masculine local farmer dressed in gumboots, singlet and hat, much like that of Wal in from Footrot Flats, eating a delicate looking soft serve ice cream, before presumably heading back to the farm.
"I thought to myself, this place is just brilliant."
The show, Live From Anzakistan, is based on the television show by the same name, but Heath says it is all new material.
"If you have seen the TV show you will have an idea on the theme of the show and it includes some of what I think is the best material I have ever written."
The lively comedian says he is the right man to rule the utopia known as Anzakistan because "I have best interests of my people at heart".
See the fearless leader in action and hear about his policies, such as settling the debate as to whether the correct term is 'thongs' or 'jandals', live at the TSB Showplace later this month.
Heath Franklin's Chopper will at the TSB Showplace, New Plymouth on November 11. Tickets for Live From Anzakistan can be purchased from Ticketek at premier.ticketek.co.nz