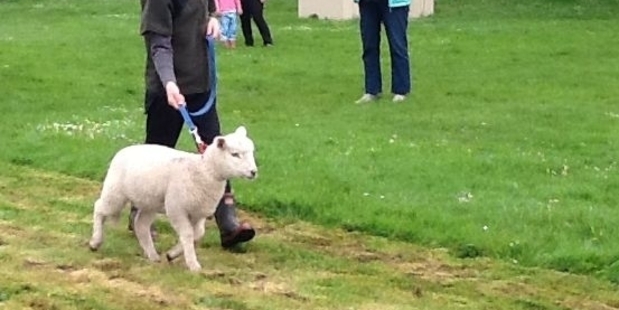 The Ratapiko School Lamb and Calf day was held on Tuesday, October 11 and was very successful, says principal Lisa Hill.
She says the event, held in the school grounds had one calf and many lambs entered, with four children competing in the senior section, five in the junior and five in the preschool.
As well as the lamb and calf rearing, there were also three classroom displays - vegetable creations, a floral arrangement in an unusual vessel and rock paintings. Lisa says all of these were done at school by the youngsters, and were judged by three members of the school community. She says the judges loved all the creativity and effort on show.
"They were impressed by all the creations, especially the juniors considering they were all done unassisted."
Parents, friends and whanau watched the lamb judging and look at classroom displays, before enjoying a barbecue lunch, prize-giving and a range of auctions.
"We thank and acknowledge all the sponsors and members of the community for supporting our day." says Lisa.
- Results: Junior Lamb Leading: 1st Hunter Martin, 2nd Lachlan Marshall, 3rd Branden Meyer.
Junior Lamb Calling: 1st Blayke Collins, 2nd Lachlan Marshall, 3rd Hunter Martin.
Overall Junior Lamb, David Penny Memorial Trophy: Lachlan Marshall.
Senior Lamb Leading: 1st Aurora Tarasiewicz-Thomas ,2nd Lukis Barton, 3rd William Young
Senior Lamb Calling: 1st Lukis Barton, 2nd Aurora Tarasiewicz-Thomas.
Overall Senior Lamb, Iremonger Trophy: Aurora Tarasiewicz-Thomas.
Bill & Lin Corlett Memorial Trophy for Best Presented Lamb: Aurora Tarasiewicz-Thomas.
Reserve Champion Lamb: Lukis Barton.
Champion Lamb Kingston Cup: Aurora Tarasiewicz-Thomas.
Special Prize Blake Hunter's calf Trot.