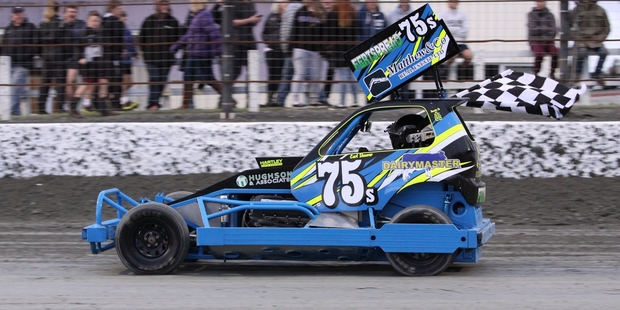 The weather gods didn't play nice on the opening night of Stratford Speedway, with the meeting having to be called off only 12 races in, due to rain.
A large crowd had packed into Stratford Speedway on Saturday night and despite the weather, spectators were still treated to a great night of racing.
Minisprint driver Shaun Dickie posted a lap record of 13.48 seconds in the City of New Plymouth Classic, leading with nearly half of the track between himself and the rest of the field in race one. Karl Uhlenberg, who showed good speed in Palmerston North a week prior, also posted a fast lap of 13.98 to claim a second.
Midget driver Duane Hickman (95s) would have been pleased with how his new car ran, holding off eight other drivers, including travelling cars from Auckland, in both races.
Even with a $100 incentive for the first stockcar or superstock driver to roll a car, competitors played it safe during their City of New Plymouth Classic Races.
Superstock driver Carl Shearer (75s) proved that he is a driver to watch out for in the 2016/2017 season, winning the first race, ahead of Mark Phipps (37s), in what turned out to be their only race of the night. Stratford local Blair Uhlenberg (28s) was impressive in his first race in the Superstock class, placing sixth.
Stockcar driver Josh Walsh (35s) was the first to claim the chequered flag for the City of New Plymouth Classic, holding off the field in race one.
Kylee Symes won heat two for the Stockcars ahead of Mark Woods in the 517s car, and Josh Walsh placed third.
In the Saloons class, Joe Ingram (27s) looked impressive on the track with his new Corvette motor, but it wasn't enough to hold off Thomas Korff in the 16s car who showed good pace on the track.
The track was easier for drivers to manoeuvre around in their second race after it has been packed down following rain that afternoon, but the Stratford cars weren't quick enough in race two, to hold of visiting driver Josh Smith from the Hawke's Bay, with Daniel Hinton coming in second in front of Joe Ingram.
Youth Ministock driver Brad Uhlenberg (8s) started the season well, comfortably winning the classes first race. The ministocks managed to squeeze their second race in, just before the rain started to fall. Flynn Johnson (153s) won the classes second race of the night.
Due to the rain off, officials were unable to award the City of New Plymouth Classic.
-RESULTS:
Salooons race one: 16s, 27s, 8s, 7s, 17B, 25s, 27B, 4s, 45s, 46s.
Stockcars race one: 35s,72s, 58s, 84s, 517s, 73s, 33s, 81s, 34s, 229s, 98s, 85s, 86s, 196s, 97s, 511s, 89s, 47s, 711s, 96s - DNF 94s.
Midgets race one: 95s, 81a, 21v, 12v, 9s, 74v, 14s - DNF 41a, 57s.
Youth Ministocks race one: 8s, 99s, 153s, 89s, 62s, 31s, 182s, 61s, 33s, 35s, 32s, 59s, 25s, 7s, 67s, 96s, 66s, 51s, 48s, 93s, 81s, 47s, 14s, 159s, 28s, 74s.
Superstocks race one: 75s, 37s, 282s, 23s, 94s, 28s, 25s, 53s, 66s, 97s, 85h, 26s, 11s, 4s, 32s - DNF 76s.
Minisprint race one: 10s, 28s, 33s, 77s, 5s, 58s - DNF 82V, 88s, 74s.
Saloons race two: 27b, 46s, 27s, 17b. 7s, 8s, 16s, 45s, 4s - DNF 25s.
Stockcars race two: 229s, 517s, 35s, 47s, 98s, 33s, 73s, 84s, 72s, 85s, 196s, 86s, 89s, 711s, 511s - DNF 58s, 34s, 81s, 94s. 96s.
Midgets race two: 95s, 41a, 21v, 81a, 9s, 12v, 14s, 74v - DNF 57s.
Youth Ministocks race two: 153s, 89s, 61s, 8s, 7s, 67s, 99s, 32s, 25s, 182s, 51s, 59s, 48s, 66s, 159s, 81s, 96s, 14s, 47s - DNF 35s, 93s, 74s, 31s, 33s, 28s, 62s.