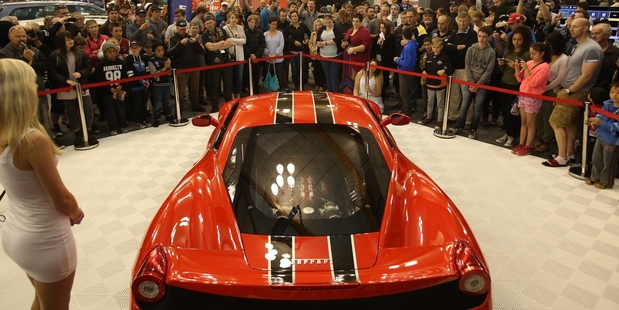 It's back, and it will be "bigger, ballsier and better" than before!
The Central Districts Big Boys Toys is a must-do show for men (and women who love cool stuff) from across the central and lower North Island.
See this week's print edition of the Stratford Press for details on how to win tickets to this great show.
As well as featuring displays by some of the world's top FMX and BMX stars, the show will have a public unveiling of the 2017 Aston Martin DB11 supercar.
The Central Districts Big Boys Toys will feature a dynamic entertainment schedule and the latest products and services from the automotive, motorcycle, lifestyle and consumer electronics industries.
The Milwaukee action arena will be held indoors, featuring New Zealand's top extreme athletes for three days of FMX and BMX action, including world FMX superstar Levi Sherwood, and the only man in the world to have world to have done a quad flip on a BMX Jed Mildon, as well as US BMX star Kurtis Downs.
There will be a range of motor cars from classics to super cars, vehicles you can drive home to vehicles you dream of owning.
The show will also be a mecca for motorcycle lovers with the latest of two wheels on display from Can-Am, Honda, Kawasaki, KTM and Suzuki.
Fans of television show Knight Rider, will be thrilled to see one of the most iconic cars in television history, K.I.T.T, on display.
If all the above isn't enough, then there will also be an array of automotive action with super cars, drag cars, muscle cars and simulators for people to test their driving skills with.
The hot rod show will feature an impressive range of vehicles and interactive displays at the Central Districts Big Boys Toys show.
Central Districts Big Boys Toys show: Central Energy Trust Arena, Palmerston North.
Friday, November 18, noon - 6pm, Saturday, November 19, 10am - 6pm, Sunday, November 20, 10am - 4pm.
Ticket prices: Adults - $25 at the gate, students - $20 (with student ID), Children under 12 (if accompanied by an adult - limit two per adult) - FREE.
Website: www.bigboystoys.co.nz
Facebook: www.facebook.com/bigboystoysnz