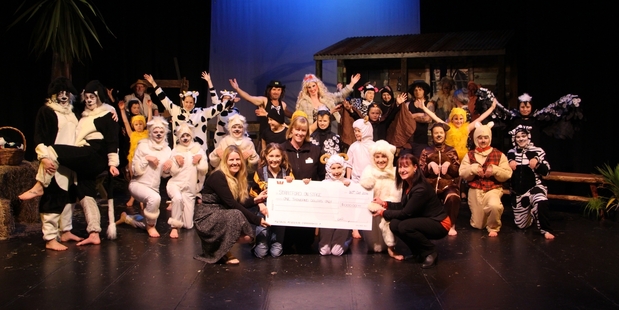 American humorist Evan Esar is reported to have once said; "A theatre requires two good producers: one to produce the play, and the other to produce the cash".
If that is the case, then the members of Stratford on Stage only need worry about one type of producer, as they have just received a cheque for $1000 from the Stratford 5000 promotion.
The Stratford 5000 promotion gave the community the opportunity to vote for their favourite group to receive $1000.
From 10 finalists, five eventual winners were selected by votes and over the next few weeks representatives from the three businesses behind the Stratford 5000 are getting out and about in the community to hand over the money.
On Sunday afternoon, Ilona Hanne of the Stratford Press, Rebecca Harris of Stratford New World and Sandy Sutherland of Westpac Stratford met with the cast of the current Stratford on Stage production Footrot Flats to present one of the cheques.
Patsy Commerford, a member of the Stratford on Stage committee, says the money will be used to cover some of the costs involved in putting the show on, including venue hireage and costuming.
She says all members of Stratford on Stage are really grateful to the organisers of the Stratford 5000 promotion as well as everyone in the community who voted for them.