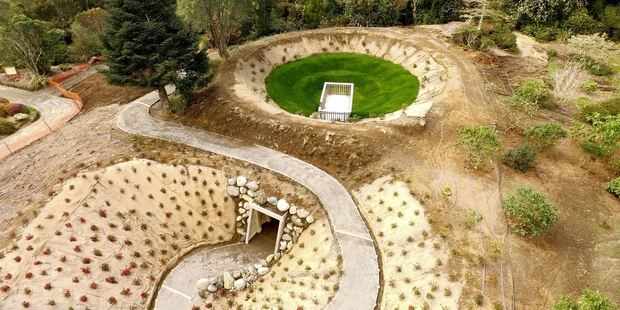 In a setting worthy of a fairytale or a Roald Dahl fantasy, Pukeiti's newest attraction The Misty Knoll has been designed to allow children and the young at heart to create their own magical world.
"The Misty Knoll has all the elements - mystery, secrecy, surprise, fun. All that's required is imagination and a sense of adventure," says Greg Rine, the regional gardens manager for the Taranaki Regional Council.
"As grown-ups, we're pretty excited about it too," he says.
"We can't wait to see what Pukeiti's young visitors do with the space."
Entering the Misty Knoll, visitors find themselves on a downhill spiral pathway surrounded by hundreds of azaleas. At the bottom of the spiral is the entrance to a curved tunnel, whose other end is not immediately visible.
What lies at the other end of the tunnel? Some might see it as a stage, or a platform, or an amphitheatre, or a different world
"The Misty Knoll is pretty special now and will become even more special as its plantings develop," says Mr Rine. "We're delighted that it's ready in time for this year's Powerco Taranaki Garden Spectacular and the busy spring and summer visitor season."
The Misty Knoll is based on a concept developed by renowned landscape designer Xanthe White and is part of a major redevelopment project at Pukeiti, the iconic heritage property that is owned and managed by the Taranaki Regional Council on behalf of the people of the region.
For more information see www.pukeiti.nz