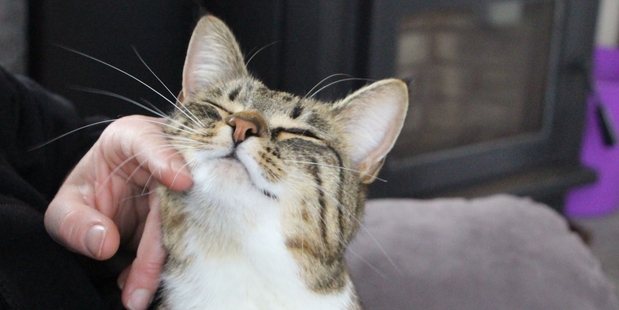 For a couple of weeks, pupils in Room 7 at Toko school have been feeding a tabby cat they named Mittens, after they spotted her hiding out under one of the classrooms.
The friendly cat quickly made friends with the year fives and enjoyed plenty of strokes and cuddles.
After one of the youngsters mentioned to their mum they had a new cat at the school, the mum thought it sounded familiar. She had seen posts on Facebook regarding a missing tabby cat called Missy, who disappeared from her Rosalind Street home last month.
She contacted Ingrid and Ian, Missy's owners, and said she wondered if this was their missing pet.
"I drove out to the school early in the morning and called her name," says Ingrid.
"Within seconds there she was, out from under the classroom and into my arms."
Ingrid says they are thrilled to have their beloved cat back home.
"She seems to be in great condition. She has clearly been well loved by the children at Toko School and I can't thank them enough for loving her when she was lost and alone."
The great mystery however, is how the small tabby cat made her way from Rosalind Street in Stratford to Toko School, a trip of over 11kms by the State Highway.
"I can't see her having walked there on her own. She must have been driven and dumped there. It is just lucky she was able to fend for herself and find the school children eventually."
Missy is a good hunter says Ingrid, which probably helped her survive the first few weeks.
"She went missing over a month ago, and has only turned up at the school last week so we have no idea where she was in the meantime."
Wherever Missy was, Ingrid and Ian say they are grateful to anyone who fed her in that time and all the people who shared the various Facebook posts about her.
"We also are really thankful we had taken so many pictures of Missy through the time we've had her," says Ingrid.
"Being able to have photos which clearly show her unique markings, especially on the face, helped us identify her quickly, even before we had her microchip checked at the vets."
Ingrid says she advises anyone with a loved pet to take plenty of photos.
"So if they do go missing, you have an easy way to let people know what they look like and any clear markings they may have which can help them be identified as quickly as possible".
While Missy is back at home, spoilt with plenty of cuddles and treats, Ingrid says she and Ian would still love to know how Missy ended up in Toko.
"The SPCA are certainly interested in hearing from anyone who knows anything or has seen anything suspicious," says Ingrid, as many missing cats have been reported recently.
"So if you have a visiting cat, who isn't yours but has made themselves at home, do take them to the vet to be checked for a microchip in case they have an owner somewhere."