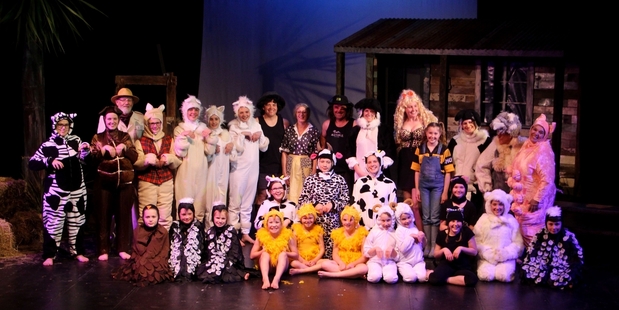 Dig out your gumboots and your black singlet as Stratford On Stage is bringing Murray Ball's iconic characters to life with Footrot Flats - The Musical.
Audiences are introduced to the quintessential Kiwi story of Wal, his dog and all the animals on the Footrot Flats farm. A love story blossoms between Wal and his beautician girlfriend Cheeky but trouble soon follows as the couple debate where to live, in town or the country.
Stratford On Stage's backstage team have done a wonderful job with the set design. A simple but effective weatherboard shed, sheep pen and large cabbage tree sets the scene for the Kiwi comedy.
Patsy Commerford deserves recognition for her work with the costumes, from fluffy chickens to furry dogs and, thanks to some additional 'dangly bits,' one particularly masculine looking ram, the characters of Footrot Flats are really brought to life on the stage.
The audience is sure to sing and dance along with the cast members as they perform a range of New Zealand songs throughout the storyline.
Paired with choreography by Becky Walsh, the whole show is a lively performance to be enjoyed by all ages.
Director Tracey Blake has put together a fantastic show, featuring actors of all ages and levels of experience that will have audiences in fits of laugher.
So get together your family and friends and book tickets to enjoy a great night out with Stratford On Stage.
Footrot Flats - The Musical opens at the TET Kings Theatre on Saturday, October 29 and runs through to Saturday, November 5. Tickets are available from Stratford iSITE.