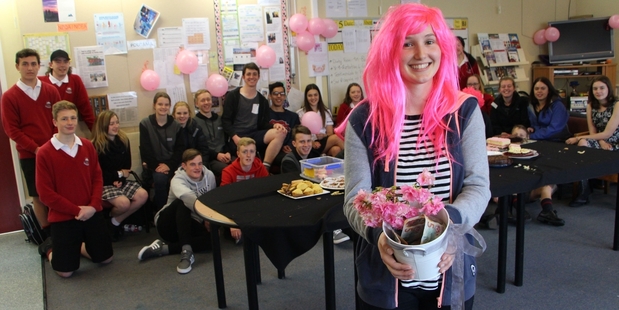 Think Pink was the slogan for the Stratford High School student council's pink morning tea on Friday morning in support of the New Zealand Breast Cancer Foundation.
Staff at the school made a donation towards the charitable trust while enjoying a delightfully pink-themed morning tea that had been prepared by the student council.
Dressed in pink wigs and accessories, the students layed out a spread of pink treats in theme with Breast Cancer Action Month.
Student council chairperson Ashley Kowalewski says the morning tea was a huge success, with the students raising more than $200 to be donated to the New Zealand Breast Cancer Foundation.
"It was great to see the teachers digging deep in their pockets to donate towards such a great cause," says Ashley.
Ashley addressed the staff on Friday morning, sharing with them some of the more daunting facts, such as 3000 people are diagnosed with breast cancer in New Zealand every year, 20 of which will be men.
Wendy Walker, assistant principal, says she was thoroughly impressed with the students' enthusiasm towards the fundraising project.
"The students put in a lot of work to prepare all the food for the morning tea and it was great to see some of them get dressed up for the occasion," says Wendy.
Some of the staff even joined in with the pink theme.
Ashley says the student council had fundraised and made donations towards a range of different projects this year, such as the relief efforts following Cyclone Winston in Fiji, Hawera Intermediate School following a fire, Starship Hospital and Midhirst School pupil Campbell Robinson.
"It is great to get behind Breast Cancer Action Month because it affects so many people. It's just as important to raise awareness as well as funds," says Ashley.