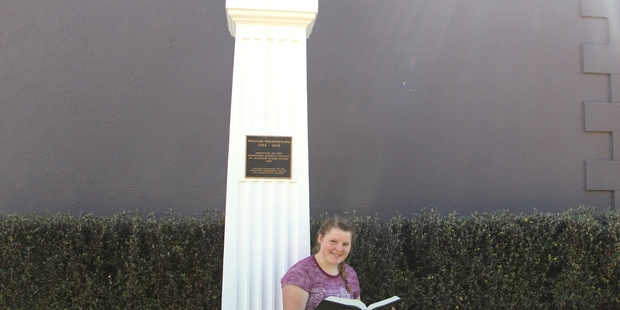 "All the world's a stage,
And all the men and women merely players;
They have their exits and their entrances
And one man in his time plays many parts."
(Jacques to Duke Senior in As You Like It, Act II, Scene VII)
Stratford teenager Estella Van Der Lee is about to see one of the world's most famous stages, having been selected as one of just 24 students from around the country to be part of the Shakespeare Globe Centre New Zealand Young Shakespeare Company 2017.
She will travel to the UK next July, visiting Shakespeare's Globe in London as well as Stratford-Upon-Avon.
Estella was selected from a group of 48 young actors who were picked from around the country to perform in the SGCNZ's National Shakespeare Schools Production in Dunedin. Estella was picked for the production after winning the individual performance at the Sheilah Winn Shakespeare Festival in Stratford in April.
Estella says the experience of the National Shakespeare Schools Production was fantastic.
"The workshops were great and we got to learn some really awesome things such as fencing. That was really good fun".
She admits to having been nervous before she set off.
"I thought I would find myself totally overshadowed by all the awesome talent, but on getting there, yes everyone was so talented, but they were just as nervous as I was. We got on really well together".
With some new friendships under her belt, Estella says being selected for the London trip is a little bittersweet.
"Only half of us were selected, so it is tough."
"Some of my newly-made friends aren't going to be coming to England on this amazing experience with me."
During the Dunedin experience, Estella was cast in a very small part in the production the group performed.
"I played an old man, which being a minor character was really good for me as I was able to really focus on the week overall."
"They kept telling us that at the end of the day, it isn't about the size of the part, but how you approach it, so I treated the role just as though it was the lead character."
While in the UK next year, Estella and the rest of the group will have the opportunity to participate in workshops, talks, Q&A sessions with actors and directors as well as enjoy behind the scenes tours of The Globe, Rose and National Theatres.
They will watch performances as well as rehearse at Shakespeare's Globe itself. The two weeks in London will culminate in the group performing scenes from one of Shakespeare's plays on the Globe stage.
"While I am looking forward to being on the stage to perform, I am just as excited by simply getting to be there."
"To see the Globe theatre and to be able to see the stage. It is going to be incredible."
The group will also spend some days in Stratford-Upon-Avon, taking in a range of tours and performances there as well.
Estella says her journey this far has been a team effort.
"There's lots of thanks due to a wide range of people - family, teachers, the co-ordinators of the event, all the people who have put in their time and effort to helping me achieve all I have so far."
Now, with nine months to prepare for the trip, Estella says she is working on raising the money.
"I need $8500 for the actual costs, plus any spending money I want to take with me of course."
Already working part time at Mitre10, Estella says she will be applying for funding and looking at other ways to fundraise as well.
If you would like to help Estella fundraise for her trip, you can get in touch with her through the Stratford Press. Call on 06 765 5471 or email editor@stratfordpress.co.nz