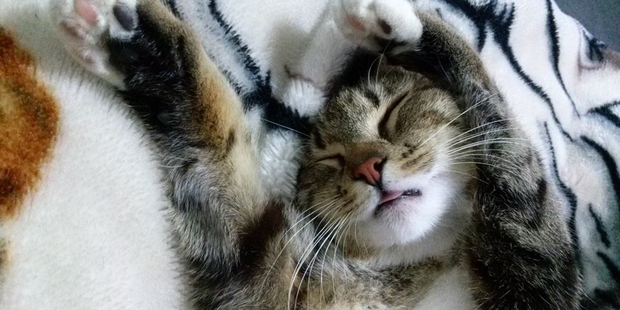 Ingrid Saies is desperately missing Missy, a beloved pet cat who has been missing since September 14.
"If anyone knows anything about where she is or what has happened to her, please let the SPCA know. You don't have to leave your name if you don't want to."
Missy had been living with Ingrid and her partner for just under a year when she went missing, and it is the not knowing what has happened to her that leaves them distraught.
"It's horrid. Every day we hope to find her, but the reality is we know it's unlikely. Sadly, we suspect we know what has happened to her."
Ingrid says they think Missy has been caught in a trap, "and disposed of".
Their suspicions aren't unfounded. Just a few days before Missy disappeared she was found in a cage on a nearby property.
"A neighbour told my partner they could hear a cat meowing somewhere, but she couldn't see it. He looked over a fence on her property and saw Missy, in a trap under a trailer.
He jumped the fence and released her, she wasn't hurt but it means we know there've been traps set in the neighbourhood in this timeframe."
After Missy was released from that trap, she was kept inside for a couple of days. "And even when she did go out she was very clingy."
When Missy then didn't return home on the following Wednesday, Ingrid says she soon feared the worst.
"Missy isn't a cat who wanders. She comes as soon as I stand on the step and whistle for her, she visits the neighbours but not for long and she comes straight back."
Had Missy been hit by a car, Ingrid says surely she would have found her by now.
"I am out most days looking for her, I have put posters up, flyers, I have posted on various Facebook pages asking if anyone has seen her. She has completely disappeared, and I can't help but fear she has been caught in a trap and disposed of."
Ingrid understands that if this is the case, someone might not want to tell her directly.
"They can ring the SPCA and let them know instead. I just want to know what's happened. I may have only had Missy for a year, but since the day I collected her from the SPCA adoption centre, she has been more than just a cat to us, she really is our furbaby and we miss her so much."
Ingrid says talking about Missy's disappearance will also make people aware of their responsibilities when using a trap.
"I understand not everyone likes cats, and if you want to keep them away from your property then fine, but if you catch them, please try to find the owners."
Jackie Poles-Smith, North Taranaki SPCA spokeswoman, says people have a legal responsibility to "do all they can" to identify the owners if they catch a cat in a trap.
"We would expect someone to doorknock around the neighbourhood, contact vets, check to see if the animal has a microchip."
People are also required to check a trap "at least" every 12 hours and to make sure it is in a place with shelter.
Jackie says the SPCA are more than happy to take calls from people regarding Missy, and urges people to take action if they see something suspicious generally.
SPCA inspectors will, says Jackie, investigate further and take action when necessary. Meanwhile, Ingrid is still searching the neighbourhood for any sign of Missy.
"As soon as I finish work I grab a coffee and then get back out looking for. I can't rest not knowing what's happened to her."