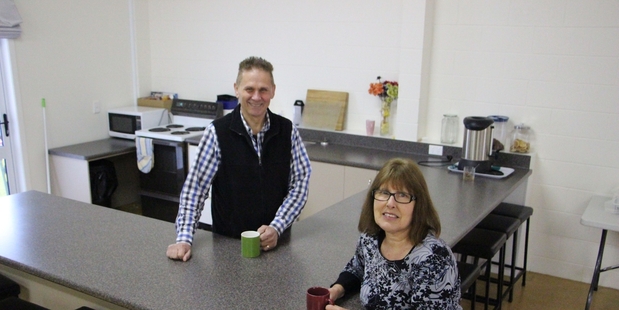 A year ago, Our Place on Page Street first opened its doors to the public, and since then people have dropped in an estimated 2500 times, and that's a conservative estimate, says Pastor Bruce Mason.
"We see anything between eight to 20 people on any given day," he says. "Some come every week, some only call in once or twice, but I believe they all leave us feeling better and happier in some way."
The drop-in centre, part of the Stratford Seventh Day Adventist Church premises on Page Street, is open between 10am and 2pm every Tuesday, Wednesday and Thursday, and has been popular since the start, says Bruce.
The concept behind the drop in centre is simple, says his wife Julie, who volunteers her time running the drop-in centre alongside other 'fantastic volunteers'.
"Everyone needs a friend."
Bruce says Julie, along with Colin and Lyn Perrett and Sheila Sarten, form what he terms the core group, who make the drop in centre such a success.
"They are there every week to share friendship and company with anyone in need. We don't preach, we aren't here to do anything other than offer support in a simple way, a hot drink, a biscuit, a chat and a listening ear."
With the drop in centre well heated, some people come to escape the winter blues as well as emotionally, says Julie.
"Many people live alone, and can't always afford to keep their place as warm as they should in winter. Coming here helps. They can enjoy the warmth and of course, having people to talk to helps warm you from the inside as well."
Some of the people who call in are facing specific struggles in life, says Bruce.
"While others simply want the companionship we offer, and a reason to leave their home and get out in the community."
Whatever the reason, Bruce, Julie and the team are there to listen and support.
"They all become friends in one way or another. We care and we don't stop caring after hours."
Bruce and Julie met the Stratford Press at Our Place on Friday after they had been out in the community visiting one of their regulars.
"Who has hit a bit of a rough patch, so we visited them at home so they know they aren't alone," says Bruce. "Just because Our Place isn't open on a Friday, doesn't mean we aren't here when needed, and we are happy to visit people in their homes as well. It's all part of the same mission, to reach out to our community, to offer support and friendship to those who need it."