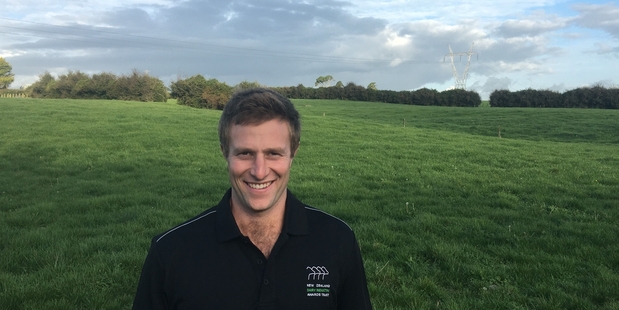 Two Tariki sharemilkers are urging farmers to get involved in the New Zealand Dairy Industry Awards as the event celebrates a major milestone.
Next March marks 40 years since Taranaki staged New Zealand's first contest for sharemilkers.
Sam Howard, who is a variable order sharemilker milking 340 cows at Tariki, was named the 2016 Taranaki Farm Manager of the Year in March.
"The competition motivated me to write down my goals and figure out a pathway to achieve them," he says.
"Meeting current and previous winners from different parts of New Zealand has been a major highlight.
"The awards helped me see the huge opportunities which exist in the dairy industry for people who work hard."
The 2015 Taranaki Farm Manager of the Year, Lance Chadwick, also lives in Tariki.
He milks 230 cows with his wife Hayley.
"The competition made us look at our business and the dairy industry differently," Lance says.
"It was a fantastic way to challenge ourselves and build our profile. We met so many cool people."
Taking out the prestigious award helped propel the couple up the ladder towards their goal of going 50/50 sharemilking and netted them $5600 in prizes.
"We've started building our herd. Those heifers are currently leased out," says Lance.
The New Zealand Dairy Industry Awards are supported by national sponsors Westpac, DairyNZ, DeLaval, Ecolab, Federated Farmers, Honda, LIC, Meridian Energy, Fonterra Farm Source and Ravensdown, along with industry partner Primary ITO.
Farmers considering entering the awards are encouraged to attend one of the launches being held at Farm Source stores across Taranaki.
"It'll be really informal, so you can turn up in your overalls and gumboots," says regional convenor Rob van den Brand.
"It's an opportunity for everyone from trainees to farm owners to ask previous winners about the huge benefits of entering.
"Plus there'll be a free lunch! Employers should encourage their staff to give it a go because it'll provide them with a fantastic opportunity to learn and grow."
The launch events are being held at Farm Source stores in Opunake and Hawera on October 21.
Lunch will be available from noon until 1.30pm.
Entries for this year's awards open on October 20.