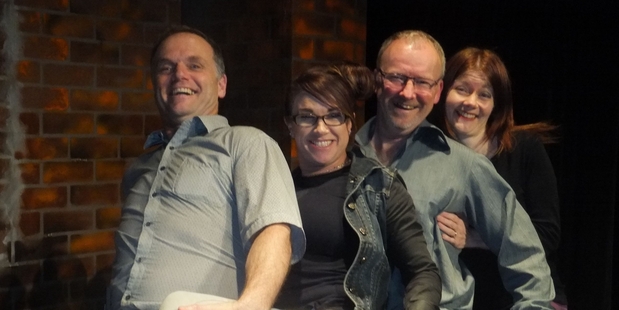 David Tristram, the writer of Cue's newest production, comments that "It's a funny old thing, memory", and how right he is! So imagine the plight of poor Robert Zeinfeld, found wandering the streets of a big city at 4am, without the slightest idea of how he got there! And then he ends up with a very suspicious policeman, newly promoted, and stressed. Quite a situation!
The four actors who cleverly bring the play to life are totally committed to making the most of Tristram's witty and challenging script. There are many situations we can all relate to - the frustrations of coping with workplace woes, the webs of deception that can intrude on everyday life.
Simon Buick plays Robert Zeinfeld. It is his first play at Cue Theatre, and he is enjoying it. He is well known as an actor in New Plymouth, having performed in Fat Pig, Don't Start Without Me, God of Carnage, The Love List and Anyone For Breakfast. He has also been in Repertory's Searching For Doctor Branovich, another of David Tristram's plays.
Lindsay Franklin is Inspector Monroe, who is finding the complications of the situation rather too much, dealing as he must with three difficult people, his wife included.
Lindsay's role is a large one and he gives it great dedication, determined to create a character with whom we can empathise. He says he was looking for a larger part, and he has certainly found it!
Katherine Wolfe has worked for Cue on several occasions, starting in 1990. Twenty-two years later she came back, to play several cameo roles in The Great Gatsby. She says that she enjoyed working at Cue so much that she came back to be Penny in When Did You Last See Your Trousers?. Cue Theatre values her talent, and there is no doubt that her portrayal of Julia Zeinfeld, Robert's wealthy wife, will delight audiences.
Karlina Nickson brings to life the role of Monroe's wife, who has a busy career as a doctor, with her love interest "on the side". Karlina is no stranger to theatre in New Plymouth and Inglewood. She has acted brilliantly for Cue in The Game's Afoot and Fox on the Fairway, with great success.
They are directed by John K Butler, well known for his acting talent, and remembered in many diverse roles. He is supported by an able and enthusiastic crew of designers, set builders, production staff - the many people who contribute to the achievement that is a theatre show.
Forget-Me-Knot will delight and intrigue audiences as every Cue production sets out to do.