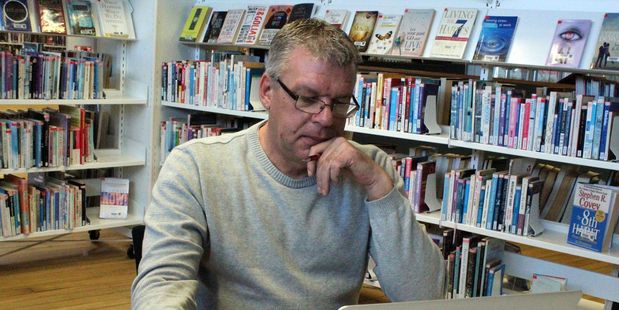 "I feel a loyalty to the South Taranaki libraries as that is where I spent much of time during the writing process."
New Zealand author Paul W Feenstra says including some of the South Taranaki libraries on his upcoming book tour was always a given.
"The staff there were so helpful to me. It is a pleasure to be coming back with the finished product."
Feenstra has been working on four historical novels, unearthing plenty of little known facts about New Zealand's history over the past five years.
"During my research, I discovered a lot of historical inaccuracies, which I explored further and I realised there were gaps in the history we were taught in schools. My novels challenge some of these."
By using fictional characters, but setting them in real historical eras and specific battles etc, Feenstra says he is able to explore and challenge contemporary thinking in a creative way.
"At the end of each book, I explain in detail why I make the conclusions I do, and how my thinking got there."
Feenstra's literary career is a new path in an already diverse career history. He has spent many years working in the entertainment industry, primarily based in Hollywood, where he has worked on numerous videos, music albums, TV programmes, documentaries, commercials and films, earning two Emmy nominations for sound mixing.
He has worked on "amazing projects" and met his share of stars, including singer Julio Iglasias, boxer Muhammad Ali and actor Viggo Mortensen. The continual high demands of the job meant he "lived to work".
Feenstra moved back to live in Wellington about six years ago but spent seven months, recuperating following a ruptured Achilles tendon - the catalyst to start writing.
The question was what to write about, and the answer came while out walking.
Feenstra spotted sign across a driveway that said 'no admittance by order of the commandant of the Defence Force'.
"It was just saying 'come and check it out' so I did and discovered a battlement, a military defence instalment."
During his research into the old battlement, Feenstra discovered it was built in 1885 to keep the Russians out.
"New Zealand feared a Russian invasion. I discovered the Russian Navy had plans to invade Australia and New Zealand."
The idea for Feenstra's first novel, For Want of a Shilling was born. Proud of his meticulous research, Feenstra sent his completed manuscript to a publisher who wrote back warning him he needed to be truthful, that no one would believe him about the intended Russian invasion.
Feenstra said he has unearthed many disturbing anomalies during his research of original documents, old letters, early newspapers and archives that made him question accepted New Zealand historical facts.
It led to book number two, Boundary.
"It's fiction, my interpretation of what could more logically have happened. The strangest things that happened are true," says Feenstra.
During the writing process, Feenstra spent some time living in Waverley and says the librarians there were "wonderful to me".
He is delighted to be returning to the library as part of his book tour, before he continues the tour in the United States.
Catch Paul Feenstra talking about his life and his novels at Hawera Library on October 13 at 11am. He will then be in Paper Plus Hawera at 3pm.
On Friday, October 14, Paul will be at Waverley library at 10.30am, before a final stop at Patea Library at 1pm. All welcome.
Paul's books can be ordered through any good bookseller. Book titles are: Boundary, The Breath of God (which is set in Taranaki), For Want of a Shilling to be published in November and Tied to Mae, also to be published in November.