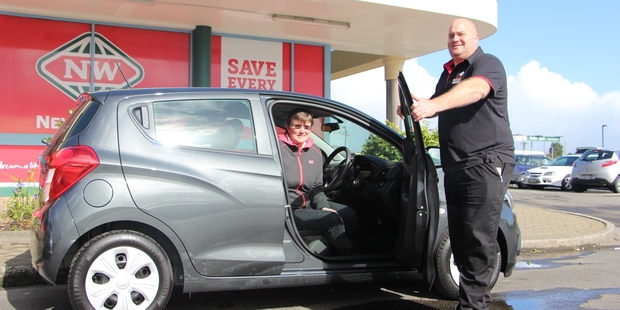 Next time Jane Roguski gets her groceries, she'll be taking them home in style, in the boot of her brand new Holden LS Spark.
Jane, who lives in Whangamomona and shops regularly at Stratford New World, was stunned when Stratford New World owner operator Dan Harris called her to tell her she had won a car in a recent store promotion.
"I haven't won anything big before. I won a tub of yoghurt through a Facebook competition a week ago and thought that was exciting!"
Jane, who currently drives a 1996 Honda Civic, says she is impressed by her new car.
"It seems very modern, it has lots of great features like being able to link your phone with it. I am looking forward to driving it home."
Jane's car, which was delivered by Peter Couchman, sales consultant at Auto City Hawera, came with current registration and WOF, a full tank of petrol and a three-year warranty as well as roadside assistance from Holden NZ.
"It's a great car," says Peter. "Economical to run but still pretty high spec with features such as bluetooth and cruise control included."
Jane says she and her family were driving back from watching the Silver Ferns play when Dan called.
"Funnily enough I had entered a competition at the game to win a car. I didn't know I had even entered a competition when buying my groceries though." Jane says she didn't realise she was entering a competition by simply swiping her Fly Buys card when she spent $50 or more at the local supermarket.
"Most competitions require you to do something, but this was just done automatically, nice and easy and such a great prize." Dan says it is the first time he has given a car away, and is really pleased the prize went to regular customer.
"All the staff were really pleased when we announced the winner. Many of them know her by sight as they see her in store. It feels great to be handing over the keys to a brand new car worth nearly $18,000 to a local person."
Dan says with the new club card now being introduced in New Worlds across the country, customers should look out for more incentives.
"We have plenty of great specials and rewards coming your way".
He has enjoyed the experience of giving a car away and is looking forward to rewarding more customers in the future.
"It's a big prize to give away, and it really feels great to call someone up out of the blue and tell them they have won a brand new car."