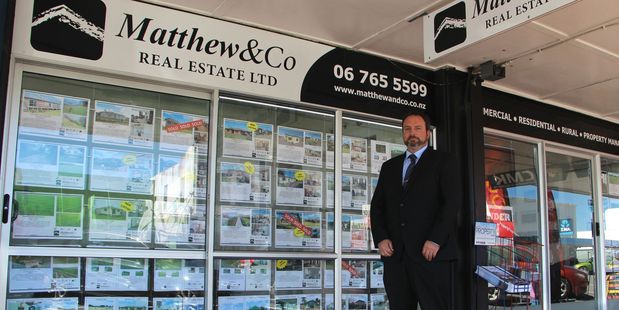 He stood for election saying it was time his generation stepped up, and now Matthew McDonald has been elected over incumbent Brian Jeffares for the Stratford ward of Taranaki Regional Council.
Matthew was in Christchurch supporting his son Riley, who was playing in the Hockey U13s Hatch tournament, when the results came in.
"I was ecstatic, it was a great moment. I was actually sat with my dad and some old friends. In fact I sold their farm in Toko for them some years ago, when I got the email telling me I had been elected."
Matthew says he would like to see more of his generation stand for public office, and was pleasantly surprised to learn that he won't be the youngest at the table.
"I thought that 40 would be young, politically speaking, but Charlotte Littlewood is 35, so I won't be the only person representing a younger demographic."
Matthew says he is looking forward to "getting fully involved in creating and implementing policies and practices for our fantastic region, to take us to where we want to be in 20 to 30 years time".
He acknowledges the "many years of service" given by his predecessor Brian, to both district and regional council.
"Brian has done a good job, but I think this year, we gave voters a choice and they were happy to elect a new representative, giving Brian the opportunity to take a step back and enjoy time with his family in a good way."
Brian says having had a few days to reflect on the result, "I'm comfortable with the final decision of the voters."
He adds, "The beauty of living in a democratic country such as New Zealand means we are able to let the public decide in these things. I accept the end result just as willingly as I have accepted the public votes over the years."
He is looking forward to having more "Brian time", he adds, saying after 21 years in public service it is novel to not have a diary overflowing with appointments.
Reflecting on his time at TRC, where he served three terms, he says he is particularly pleased Stratford was able to remain a separate constituency, "and we kept rate increases as low as possible". He also feels his time as chairman of the Civil Defence Emergency Management group was a highlight.
"We achieved good things in that group, which have a lasting impact on the region."
He called Matthew to congratulate him on his election and says he wishes him all the best.
Matthew says it's good to have a mix of new and experienced councillors this time, he says. "As it gives us new ones the chance to learn the ropes while also ensuring there is some continuity. Being elected positions it is impossible to have any form of succession planning so it is great to now have a wider range of ages on the council to lessen the chance of all stepping down at the same time."
Matthew says he feels he is able to represent Stratford at a regional level well.
"I am born and bred in Stratford, I have worked in the town just about every day of my working life, we own property here, we lease land here. I am involved with a range of clubs and groups such as the golf club, and my children have both attended a local primary school."
While Matthew is obviously pleased with the election result, he says he would still like to see more people stand next time around. "We need more people to get involved, to step up and put their names forward for more public service roles."