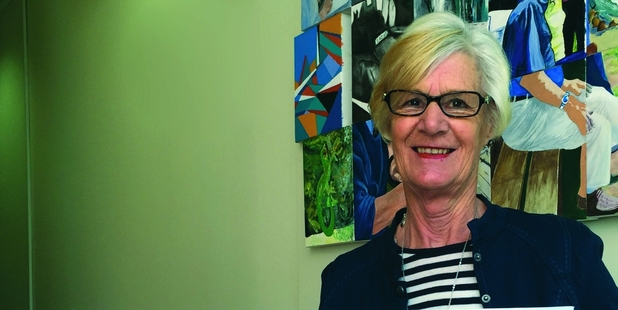 Three exhibitions with vibrant energy and dazzling colour as their central theme open at Percy Thomson this Friday, evening at 7pm.
Taranaki Patchworkers and Quilters (TPQ) lead the charge with a group of 'challenges' under the umbrella Colour Explosion.
This includes the Aotearoa Quilters' biennial travelling challenge exhibition, Flight, comprising 20 quilts. This was won by Jeanette Gillies, art quilt designer from Central Otago and twin sister of local textile artist Jennifer Patterson.
Local quilters have also risen to the challenge, creating 12 x 12 art quilts, 20 x 15 art quilts and a textile on canvas section. Most of these will be offered for sale.
Come On Board with Textiles was organised to give students, artists and the public an opportunity to show their creative and crafting skills by mounting on a framed canvas.
Taranaki ceramic artist Anthea Stayt is guest artist for TPQ. Her exhibition is titled Colour & Form. The award-winning ceramicist has created a number of patchwork-style pieces especially for this exhibition.
Anthea creates original hand-built ceramic forms using stoneware paper clay.
Her forms are decoratively finished with layers of brushed on oils. By layering and painting in this manner, Anthea creates a unique finish to her bold and contemporary sculptural works.
The community gallery will host a collaborative exhibition by Auckland artist Nemesh and Taranaki potters Kathryn Gates and Barbara Nicholls.
Born in Yugoslavia (Serbia), and now living in New Zealand, Vjekoslav Nemesh has been a professional artist since 1984.
He began drawing at an early age with an interest in comics, which progressed into more detailed and graphic representations.
In his early 20s a schoolmate commissioned him to create a large oil painting, and that has been his choice of medium since.
Nemesh says the 'overwhelming magnificence of nature's creation' inspires him to explore the depths of his soul, where conscious meets unconscious.
Nemesh has participated in more than 300 group exhibitions in New Zealand and overseas and has had more than 50 solo exhibitions in the former Yugoslavia, Sri Lanka, United States and New Zealand.
Barbara Nicholls has been involved in pottery for the past 30 years. While keen on all facets of working with clay, Barbara relishes the energy and thought processes involved in wheel throwing.
Barbara focuses on glaze techniques and reduction firing in a gas kiln and is currently experimenting with porcelain and traditional style oriental reduction glazes, such as copper red.
Kathryn Gates first connected with clay more than 30 years ago when she attended classes in Invercargill.
"I channel my creative energy by developing forms on the wheel, especially platters and bowls, using high-fired stoneware and porcelain clay bodies. I particularly like working with porcelain, adding texture and colour."
Kathryn decorates her work using Chinese-style glazes, and experiments with ash, copper and barium. Reduction firing in a gas kiln to a temperature of 1300C creates a variety of effects.
The exhibition runs until November 6.